Today I'm teaming up with my friend Cyndi over at Walking in Grace & Beauty for a fun July 4th fashion collab.
AND, to celebrate our nation's 239th birthday in just a few days, we're hosting a giveaway for a $100 Nordstrom Gift Card, just in time for their big Anniversary Sale coming up next month!! I know, we're pretty awesome, but we think you're awesome too, and we hope to make one lucky lady verrry happy this month!
As far what to wear for the 4th of July, I like to take a subtle approach to holiday fashion. For this post, I wanted an outfit that most of us can put together with pieces we already have in our closets. Take a look.
I actually built the outfit around these striped espadrilles. When I saw them online, I immediately thought of the 4th of July. Any red sandals would work with this outfit, but I particularly liked how the stripes resemble the ones on the American flag.
To keep it easy, I went the white and denim route on top. Every woman has a white t-shirt and a denim skirt or shorts in her closet, right? Blue jeans would also work if it's not too hot where you live. Or, if you prefer, you could do navy blue twill shorts or skirt.
Then it was just a matter of accessorizing. The Element Necklace is new this summer from Stella & Dot. It's a 3-for-1 deal because it is actually two necklaces that can be worn separately or together.
The anchor bracelet was a gift from my friend Kayla Aimee. It came in a package with her brand spankin' new book, Anchored: Finding Hope in the Unexpected. Order it today. You won't regret it. I'll be telling you more about it next week, but I thought the bracelet was perfect for this outfit. I also love how my sapphire and diamond anniversary band works into the color scheme. Yes, I think about these things, lol!!!
If you don't have red sandals, you could incorporate red into your accessories somewhere. It all depends on what you have in your closet. Just pull out all of your red, white and blue, and mix and match until you come up with a combination that you like.
I decided to carry the How Does She Do It tote from Stella & Dot because if you're going to a 4th of July parade or picnic, you will probably want a large, lightweight bag to bring extra water, snacks and maybe a sweater if you live in a cooler climate. The navy and white ikat print is perfect for completing my 4th of July inspired outfit.
Finally, I painted my nails red for the occasion.
And there you have it! A classy and comfortable summer outfit that's perfect for the 4th of July or any other patriotic occasion.
Outfit details: white tee via WHBM (similar here or here) // Madewell Raw Edge Jean Skirt // Splendid Eveleigh Natural Espadrille Sandal // Michael Kors Chain Bracelet Watch // Element Necklace // Anchor Bracelet (gifted) // How Does She Do It Carryall
And because I never do anything halfway (haha!) I have another 4th of July outfit for you.
You don't HAVE to wear red, white, and blue to be festive for the Fourth. I found this black embellished flag t-shirt at Kohl's. It's perfect for patriotic occasions, plus it has an edgy vibe, which I enjoy.
I actually paired it first with blue jeans, and then I thought it might look nice with white. I would like it even better with more of a casual, destructed white jean, but either way, it works.
The red bag and red nail polish are a nod to the red, white and blue, but in my perfect world, I'd have done something really cute with my nails. Last year, I did a post on Patriotic Nails for the Fourth, if you're looking for ideas.
For obvious reasons, I accessorized with silver. The bracelets and necklace are all from my Stella & Dot shop. I also meant to add my Silpada Half Moon Earrings, but I totally forgot about them until after I'd taken these pictures.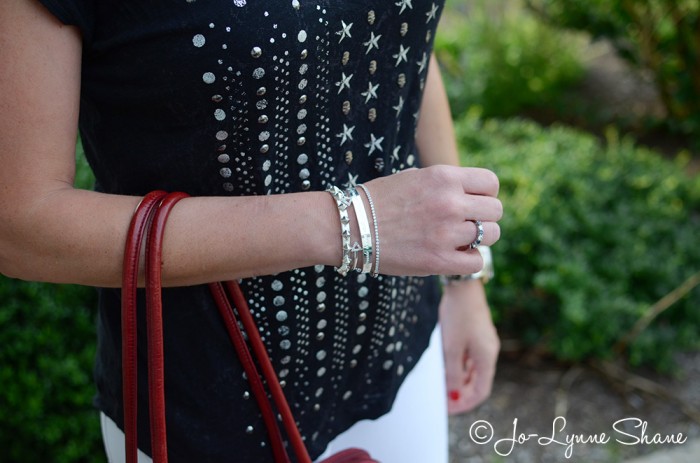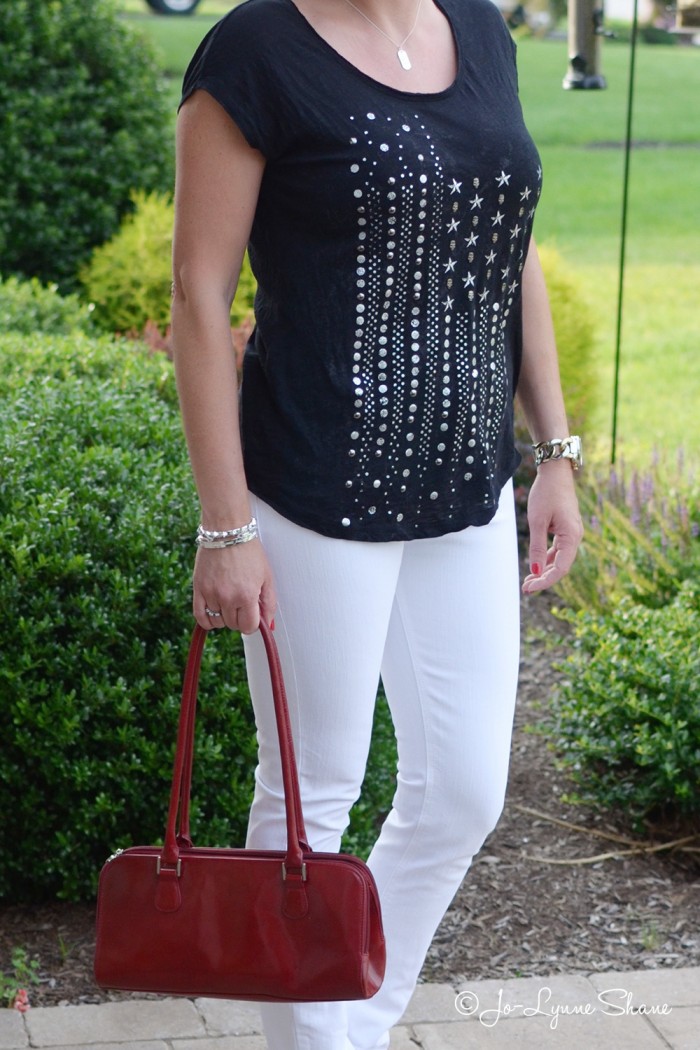 Outfit details: Rock & Republic Embellished Flag Tee // DL1961 Forence Skinny Jeans // Orthaheel Adelie // silver bracelets and necklace via Stella & Dot
So there you go, two different outfit ideas for your July 4th festivities.
Don't forget to pop over to Walking in Grace & Beauty and see Cyndi's take on 4th of July fashion for women over 40.
But first.
Fashion for Women Over 40 on Pinterest
Cyndi and I both enjoy sharing wearable and affordable fashion ideas for women over 40, so we have joined forces on a Fashion For Women Over 40 Pinterest Board. If you're on Pinterest, I hope you'll follow us. 
Did you like this post?
Sign up for my Daily Emails, and you'll never miss a thing! You can also follow along on Instagram for my daily outfits and sneak peeks of what's to come on the blog. Be sure to register with LIKEtoKNOW.it so you can shop my outfits first! 
This post contains affiliate links. For more information on what that means, see my About Page: Blog Monetization and Disclosure.