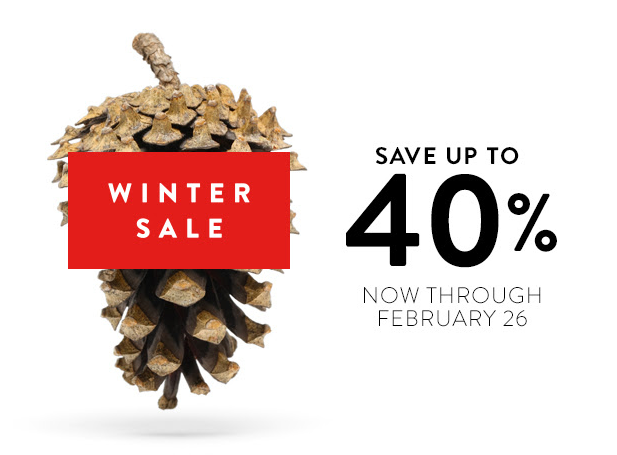 Oh, yes. You heard that right. The Nordstrom Winter Sale starts TODAY! This is when all the stores start clearing out all their fall and winter stock so they can make room for spring, and that means sales and deals galore! If you're one to buy ahead for the next season, this is a great time to get some good deals on winter clothes, shoes, and accessories.
I'll warn you, things to fast during these sales. If you're on the fence, remember that Nordstrom has free returns for up to 6 months, so there's no risk it trying something. Also, if you're unsure about a size, I always recommend ordering both and returning the one that doesn't fit so you don't miss out on the sale.
Today I'm teaming up with Nordstrom to share an outfit inspired by some of their sale styles as well as some of my best shopping recommendations.
I styled an outfit that combines camel and grey. I hardly ever think to wear these colors at the same time, but they actually play together nicely.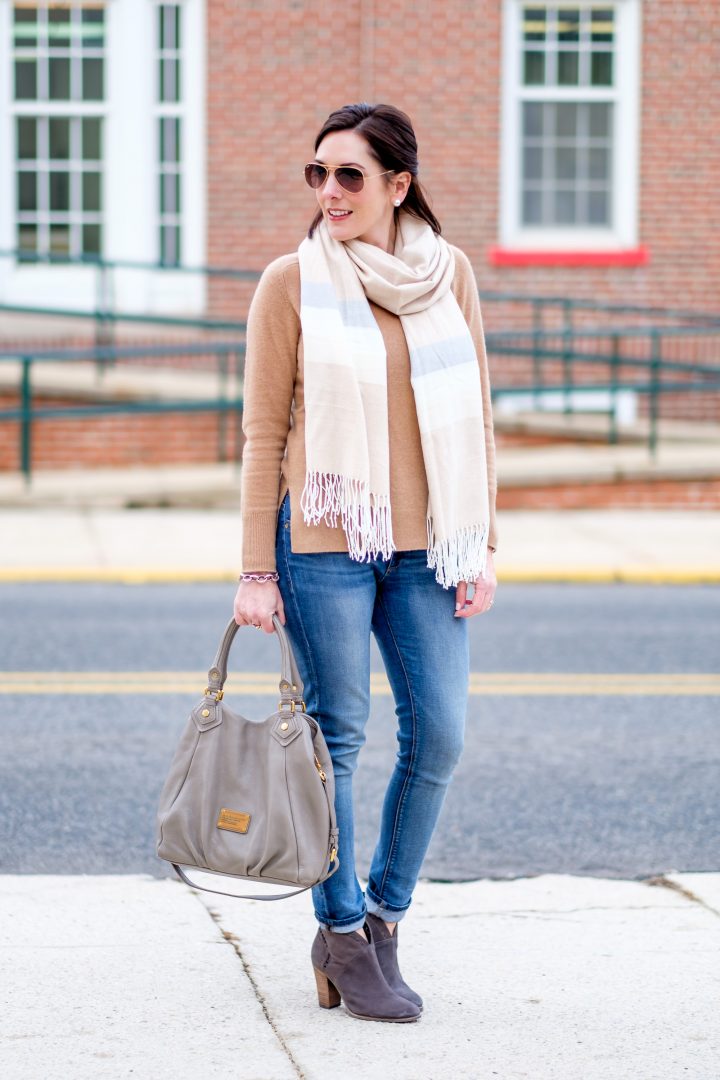 This Halogen crewneck cashmere sweater is the type of wardrobe basic I like to buy ahead for the next season. You know it's not going to go out of style, and it's something you will get a lot of wear out of. In fact, I think I buy a new cashmere sweater every year at this time because you can find them on such deep discounts. This sweater in particular as been a workhorse in my wardrobe this year.
They also have it in a v-neck version, and both styles are just under $50. That's a great price for cashmere. I just put the emerald green in my shopping cart. It will be perfect for wearing in March with white jeans and ballet flats, and then I can wear it next fall and winter too! I'm also debating that aqua-grey marl. SO pretty!
This sweater is very flattering. I really like the slits on the sides, and it's super soft and cozy. It comes in tons of colors. For size reference, I have the small so it runs pretty true to size, or maybe a little big big. I'm not big on layering under sweaters, but if I were, I probably would want the medium.
You may remember these Vince Camuto booties that came from Trunk Club. I haven't regretted that purchase for a second, except now that they're on sale, I'm thinking I should have waited. Oh, well. I have enjoyed wearing them. If you've had your eye on them, now is the time to swoop them up! They were $149, and now they are $89. I expect them to sell out fast. They also come in brown.
These are such good quality and very comfortable. Plus, they're flattering to the foot. I love the dip in the front and the perforated details on the shaft and heel. The stacked heel is on trend and comfortable to walk in. If you like this style but want something that will carry you a little further into spring, they have an open toe version with a slingback heel that is also on sale for $89.
I don't usually wear camel and grey together, but it's actually a combination that is becoming more popular, and I kind of like it! I wore this scarf that incorporates shades of beige and grey to pull it all together. My exact scarf sold out, but this one would achieve the same effect, and I really like the addition of the black to the other colors. It is also on sale.
My handbag is old, but there are tons on the sale. I'll link to some of my favorites below. This Rebecca Minkoff hobo is on sale, and it's a fabulous bag if you're in the market for a go-to leather bag in a nice light neutral. I love her bags, and I've had my eye on this one for a while. That mushroom color goes with everything. This Vince Camuto tote with tassel detail is another great choice. It also comes in cognac and black.
I also didn't mention my jeans. These are my DL1961 Emma legging jeans from a couple years ago. There are a couple of styles included in the sale. They have a fabulous fit and feel, and they don't bag out. I thought the lighter blue wash played nicely with the camel and grey tones in this outfit.
I kept my accessories simple — oversized faux pearl earrings and some of my favorite David Yurman pieces that Paul has gifted me with over the years. I lost one of these pearl earrings and bought them again because I missed wearing them so much. They aren't on sale, but at $28, they're pretty budget-friendly. I like how they make a statement but don't interfere with collars and scarves.
Halgen Cashmere Crewneck Sweater ($49!!!) // DL1961 Emma Legging Jeans // similar scarf // faux pearl earrings // Marc Jacobs satchel (alternative: Rebecca Minkoff Bryn Hobo) // Vince Camuto Fritan Booties ($89!!!)
What to Buy at the Nordstrom Winter Sale #NSale
Here are some of my favorite finds from the Nordstrom Winter Sale. I believe all the hover prices are the sale prices, but sometimes they change after I create the widget that populates these pictures, so click through to double check on the current price. You may get a nice surprise if they take further reductions!
And it's Friday, so that means linkup day! If you have a fashion blog, I'd love for you to join us. If you're here for your weekly dose of style inspiration, you'll find plenty of that here. Have a beautiful weekend!
Fashion Friday
Did you like this post?
Subscribe to get updates in your email inbox! I share a bit more of my daily life in my emails, and then I always link over to my most recent blog post(s). You can also connect with me on Instagram and Facebook, and I'm occasionally on Snapchat.
This post was brought to you by Nordstrom. All opinions and product selections are my own. Thank you for supporting the retailers that support this site.