For Day 18 of 26 Days of Fall Outfits, we're going to talk about how to wear bootcut jeans.
I never got rid of these jeans because I love the fit, and I always feel like a million bucks when I wear them. Even though bootcut jeans haven't exactly been on the cutting edge of fashion for a while, they never really went completely out of style. This year, however, flares and bootcut jeans are back on trend, so I'm so glad I kept these in the back of my closet!
How to Wear Bootcut Jeans
I did a quick google search to see what the experts are saying about bootcut jeans this fall. Vogue lists the bootcut as one of the top 5 denim trends for fall, and Elle Magazine lists the bootcut jean as one of 11 trends they can't believe are back.
I also checked a few of my trusted fashion blogger friends. Deborah of Fabulous After 40 calls bootcut jeans "a classic that women can't get enough of," and Angie of YouLookFab predicted back in February that bootcuts were making a strong comeback.
Here's a closeup of mine. Most bootcut jeans for sale now have a higher rise, but these still work just fine for me.  (Stay tuned for similar shopping links at the end!)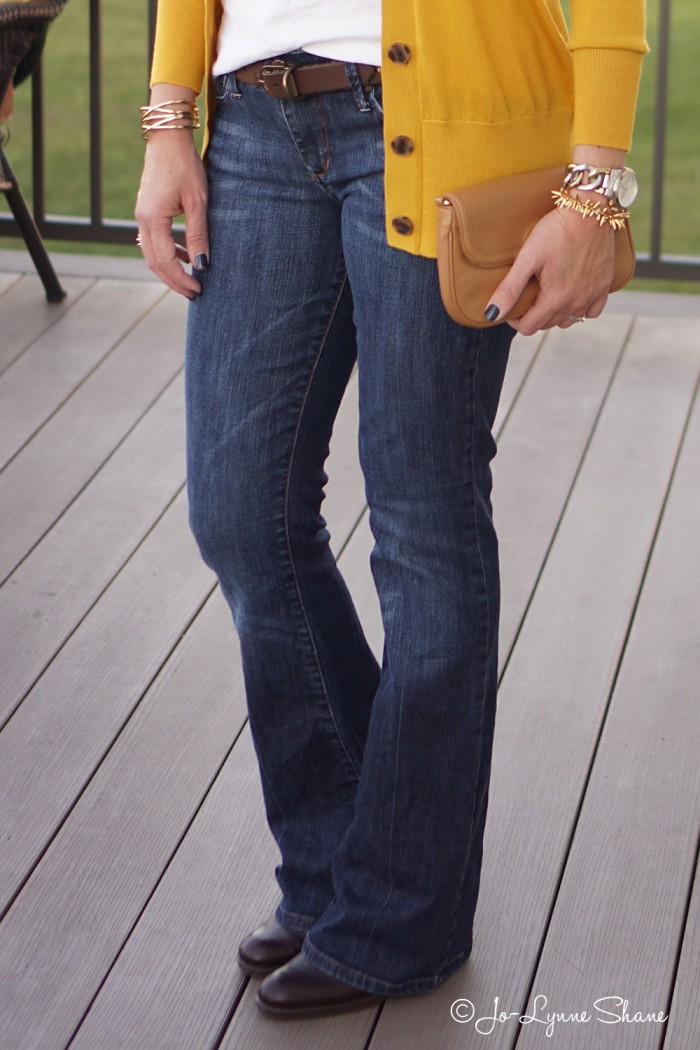 On top, I added a mustard boyfriend sweater and a white tee. This mustard color is perfect for fall. To that, I added this leopard infinity scarf, which I found at Francesca's a few years back. I love the mix of warm tones.
Bootcut jeans demand boots, and the higher the heel, the better. Just make sure your jeans are the right length for your boots. They should almost graze the ground, but not quite.
The boots are Nine West. I swear, these might be 10 years old. The stacked heel is back in style this year, so once again, I'm so glad that I never got rid of these!
The brown belt (also old – a Gap purchase many moons ago) is perfect for pulling the scarf and the boots together.
I chose gold jewelry in keeping with the warm tones of the outfit, but silver would work just as well.
I carried a small brown clutch. I like the various shades of brown in this outfit.
And here's a closeup of the jeans. I just love the wash on these. They have faded slightly over time, but that only makes them better. This is why I invest in premium denim. They just get better with age.
So that's my modern take on the bootcut jeans. This outfit would be just as cute with skinny jeans and ankle boots or riding boots. I've worn it that way in the past, but this is fun for a change.
Outfit Details: similar mustard cardigan | white tee | leopard scarves here and here and here) | bootcut jeans (similar; budget option) | ankle boots (options here and here and budget) | similar crossbody (budget option)
Shop Bootcut Jeans
Shopping Links: Mavi Baby Bootcut | Citizens Emmanuelle Bootcut | Wit and Wisdom Bootcut Jeans | AEO Kick Boot Jean
What do you say? Are you happy to see the bootcut jeans come back around? Did you ever stop wearing them?
I love that so many denim styles are on trend right now. I never get tired of wearing jeans, but I do like having a few different styles to keep things interesting.
Did you like this post?
Sign up to get my Daily Emails, and you'll never miss a thing!
If you're looking for help building your wardrobe, I highly recommend Trunk Club. And follow me on Instagram for my daily outfits and sneak peeks on upcoming fashion posts!