I hope you are enjoying your Mother's Day. It's gorgeous here in Philly. We attended church this morning and now I'm on my way out to my son's first baseball game of the season. It doesn't get much better than this!
If this is a hard day for you due to the loss of your own mother or infertility or any other reason that these types of days can be so very hard, please know that you are in my prayers.
Taking a Mother's Day picture is a tradition in our family, and it's become a bloggy tradition as well. Once again, I'm posting photos of my Mother's Days through the years, and adding today's picture at the end!
Mother's Day 2000 — this little guy is 13 now. Crazy.
Mother's Day 2002 — this is the day I discovered I was pregnant with C.
Mother's Day 2003 — Mama said there'd be days like these . . .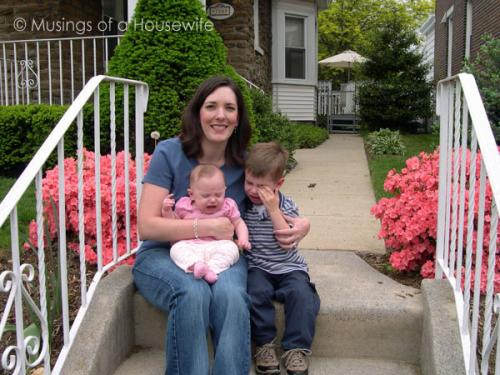 Mother's Day 2004 — I wish my daughters would still let me put bows in their hair.
Mother's Day 2007
Mother's Day 2008
Mother's day 2009 — hot and tired, but it still counts, right??
Mother's Day 2011
Mother's Day 2012
And finally . . .
Mother's Day 2013
Happy Mother's Day!