Tried and True: Chicken Gruyere
Chicken Gruyere one of our favorite "special" dinners. I found this recipe years ago on AllRecipes.com, and it has become my stand-by special company dinner. But Chicken Gruyere is also great for the family. My husband and kids DEVOURED it last night.
Here are the ingredients. It's all pretty basic stuff that you can get at any grocery store. You will probably find the gruyere in the specialty cheese section.
Since I'm all out of the boneless chicken breasts that I get from the farm, I picked up some organic, free-range chicken at Trader Joe's.
You start by chopping up the onions and mushrooms.
Set those aside, and prepare the chicken. I like to slice through them to make them thinner. You can also pound them, but that's too messy and I don't bother.
When that's done, you can mix up the flour and salt and herbs.
Now it's time to assemble.  Melt some, okay, LOTS OF butter in a stainless steel Saute Pan
. No, seriously, you do need a lot, especially if you don't use nonstick cookware (I do not recommend nonstick cookware; it's toxic). Be careful not to heat it too high; you don't want to brown the butter.
Then dredge the chicken in the flour.
Coat it well on both sides, shake off the excess, and then put it in the pan.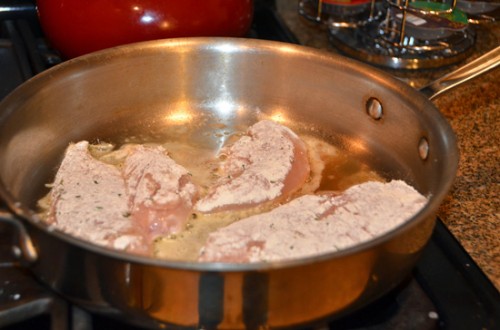 Brown it well on both sides and then remove it to a baking dish.
Now, in the same pan, add more butter, and cook the onions and mushrooms a few minutes until they start to soften.
Yum scrum. I love the smell of onions and mushrooms sautéing in butter.
Okay, next, you pour in the wine. Make sure to pour a glass for yourself, while you're at it.
Simmer for a few minutes, and then pour the whole mess of it over the chicken in the casserole dish.
And pop it in the oven! While it's cooking, shred the gruyere. I just used a box grater on the coarsest side.
After the chicken's been in the oven about 20 minutes, take it out, spread the cheese on top, and return it to the oven until it's all melty and delicious.
I served it with a side of potatoes and broccoli.
Tried and True: Chicken Gruyere
Author: Jo-Lynne Shane
Serves: 4-6
Ingredients
½ cup all-purpose flour (or gluten-free all purpose flour, or brown rice flour)
1 tsp salt
¼ tsp pepper
1 or 2 teaspoons fresh parsley
½ tsp dried dill
6 to 8 tablespoons butter
3 or 4 boneless chicken breasts, pounded or sliced thin
1 pound fresh mushrooms
1 onion, sliced into rings
½ cup dry white wine
8 ounces shredded Gruyere
Instructions
Mix the first 5 ingredients in a pie plate or even on a dinner plate is fine.
Dredge the chicken in the flour mixture.
Heat 3 or 4 tablespoons of butter in a saute pan over medium heat.
Place dredged chicken into the hot buttered skillet, and fry until it's nice and brown on both sides. Then put the chicken pieces in an oven-safe casserole or baking dish and set aside.
Add another 2 or 3 tablespoons of butter to the skillet, and fry the mushrooms and onion until they're soft and starting to brown.
Stir in the white wine. Lower your heat and simmer for a few minutes while it gets all happy.
Pour the mushroom mixture over the chicken in the dish. Cover and bake for about 20 minutes in a 350-degree oven.
After 20 minutes, take it out and sprinkle with shredded Gruyere. Bake for another 5 or 10 minutes, until it's nice and brown.