How To Wear White Jeans After Labor Day
With Labor Day fast approaching, I thought this would be a good time to republish this popular post! Wearing white after Labor Day is no longer taboo, but there is knack to doing it right. You want to be sure it looks intentional, and not like you forgot to put your summer clothes away. Here's my take on this fun, modern trend!
Also, if you're in the market for white jeans, this is a great time of year to make a purchase because many are on sale.
The "no white after Labor Day" rule is no more, and today we can feel free to rock the white well into the cooler months. Personally I love this trend. Wearing white jeans after Labor Day is a great way to look modern and hip without having to buy anything new. Of course, there are a few tips and tricks to wearing white appropriately after Labor Day. You just have to style them with cold weather shoes and heavier, warmer fabrics and colors. Here's how.
I will provide links to the original source for these photos if I can find them. Unfortunately most of the products are no longer available, but hopefully you can use these ideas to create outfits with things you have in your closet.
How To Wear White Jeans After Labor Day
#1. Pair white jeans with warm neutrals like tan and cognac. Note how the boots and scarf make it a fall outfit.
bag // boots // jeans // scarf // sweater
#2. I also love white jeans paired with gray. For summer, a gray tee and white jeans is a great, easy look. For fall, pair your white jeans with a chunky gray sweater. Again, the scarf and jeans make it undeniably a fall outfit.
#3. You can even do white on white if the sweater is somewhat heavy and you wear booties or boots on the bottom. I love how she uses the brown belt to separate the white top from the white jeans.
#4. Break out your military jacket and wear it with white jeans over a neutral tee or sweater. Pair it with booties or boots.
via
#5. White jeans with a chambray shirt always work. To make it look more wintry, wear boots and consider a scarf.
via
#6. For a bold winter look, pair your white jeans with a heavy sweater in bright jewel tones. For bonus points, add a wool scarf. Definitely wear knee-high boots with this look. Or UGGs.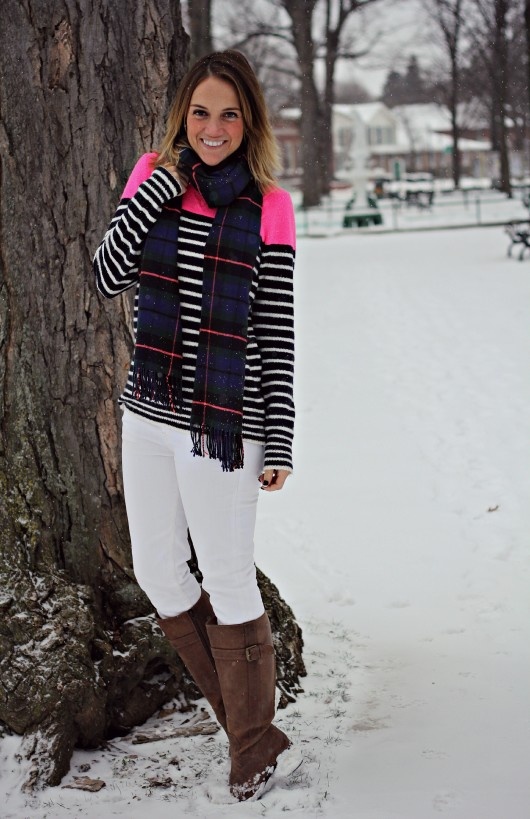 via
#7. On a rainy day, pair your white jeans with your wellies. I ADORE this look. In fact, I cannot wait for the next rainy day. I AM SO doing this.
There's no need to pack those white jeans away with your summer frocks. You can totally rock those white jeans into fall and even winter!
Here are some of my favorite white jeans. You can also read my White Jeans Review for more info!

Did you like this post?
Subscribe to get updates in your email inbox! You can also connect with me on Instagram and Facebook.
This post contains affiliate links. When you shop through my links, it helps support my business (at no additional cost to you) so thank you!