Casual Outfit Formula: Turtleneck + Puffer Vest + Black Jeans + Sneakers
Hello and happy Wednesday! Today Cyndi and I are wrapping up our style series on casual outfit formulas for moms.
I have way too many pictures from this photo shoot. It was one of those times where all of the factors were perfect — nice location, great lighting, good hair day, and while the outfit is simple, I really like how it photographed.
We were going for an athleisure look with this outfit formula, but I'm not sure mine ended up that way. Technically athleisure would involve leggings or joggers, but neither I'm not a huge fan of leggings, so I styled my athleisure look with jeans. Black jeans read almost like a legging, though, and the sneakers keep it casual. I love my Frame skinnies, but I recommend sizing down. Mine are a 29 and they slide down.
By the way, these jeans get great reviews if you're looking for something similar to mine at a lower price point. The measurements for inseam, leg opening, and rise are almost identical. The reviews indicate that you might want to size down in those too.
The striped turtleneck and down vest combo is preppy and practical for running errands or chasing kids at the park on a mild spring day, but I was FREEZING last weekend when we took these pictures. I'd need a wool turtleneck with a layering tee underneath that vest if there was any hope of wearing this outfit out and about without a coat.
I do love this down vest. I also have it in red. It fits well, it looks nice, and it definitely adds an extra layer of warmth where you need it most. For size reference, I have a small in both the turtleneck and vest. I feel like J.Crew tops always run big.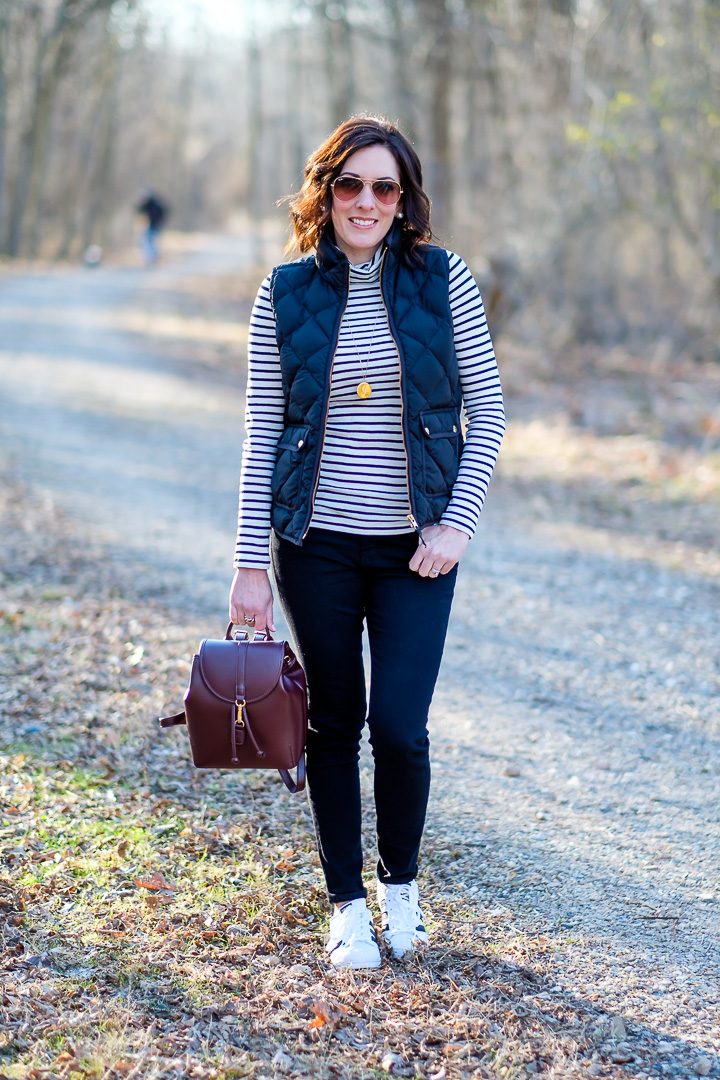 I carried my Sole Society backpack in oxblood. For some reason, I love how this pairs with my all-black athleisure outfits.
I wore my Dalton initial pendant to break up the front, and then I threw on my oversized faux pearl earrings, but I'm thinking gold hoops would have looked better. I like how the gold accessories pull out the gold in the vest and bag.
And of course, you know how I love my Adidas Superstars. I'm not regretting getting the ones with the black stripes one bit. I find myself going for those every time over the white ones. I wore them for most of the day on Saturday, and they're a bit stiff at first, but once you break them in, they're very comfortable. You will definitely want to size down in these. I've been wearing these no-show socks with my Superstars, and they are great. They stay in place and provide just enough barrier between the shoes and my feet to be comfortable.
I hope you liked this series on casual outfit formulas. It was fun to put together. This type of look isn't something I typically gravitate to when I go to get dressed in the morning. I'm much more likely to throw on a pullover and jeans and a boot or flat I can slip my foot into without having to futz with laces, but that does get boring after a while. I've enjoyed having a reason to think a little harder about my outfit combinations, and I hope it was helpful to you too.

down vest // striped turtleneck // Frame black skinnies (similar for less HERE) // Adidas Superstars (also at Zappo's) // Sole Society backpack // Dalton initial pendant // faux pearl earrings
Be sure to visit Cyndi and see her version of this casual outfit formula. 
I'm also linking up with Get Your Pretty On today!
This post contains affiliate links. For more information on what that means, see my About Page: Blog Monetization and Disclosure.