updated 11.24.12
I've been getting a lot of requests for a Twitter post. In fact, here are some specific questions I've received lately.
How in the world do you keep up with the updates?
I notice you're following 500 people, for example. Do REALLY read all of those updates?
Do you Twitter from your phone (and, if you have an iPhone, what app do you use to do it?)?
What does the # symbol mean?
When you "unfollow" someone, do they get a notice that you did so?
How easy is it to customize your Twitter background?
As you know, I have a bit of a love affair with Twitter. I think I can help!
First of all, you may be saying "what the heck is Twitter?"
Twitter is a free service that allows you to post your thoughts and questions in 140 characters or less. It's been aptly called "micro-blogging." Some see it as a great networking tool and use it to promote their businesses. Some use it as a source of news and information. Basically I see it as a giant chat room 'cause I'm all about the chit-chat.
Twitter is also a great way to find new blogs to read and interesting posts. I often click on the links that are posted. I know some people are afraid to be too "self-promotional," but I say that as long as there's a balance between promoting your blog and participating in the conversation, go for it! Post those links. I may not get around to my Google Reader, but I will often click on links to posts I see on Twitter.
Plus. Twitter accounts for a large percentage of my referred blog traffic, second only to Google on most days, so I know it's effective to promote your posts, as long as you don't go overboard with it.
Now, let's make sure you're up on the lingo:
A tweet is a Twitter post or update.
Followers are those people who subscribe to your updates (or tweets). In my main Twitter feed, I only see the tweets of the people I'm following, unless someone I'm not following replies to me, and those tweets show up as well.
Everyone has a unique twitter username — mine is JoLynneS.
A reply is when you respond to someone with the @ sign preceding their username. Replies are public. Everyone following you sees your replies to people. And as I mentioned above, when someone posts an update with @JoLynneS in it, I see that tweet in my Twitter feed, even if I'm not subscribed to them.
I give you Exhibit A:
That's Brandi, reaching out to me. You can see my reply below her tweet.
A direct message is only seen by the person it is intended for, as long as it is done properly, ahem. We've all had a direct message go awry.  As always, be careful what you put in print.  You send a direct message by placing a d in front of someone's username.
Also, please do not set up automatic Direct Messages to welcome your new followers. It is spammy. YUCK.
Exhibit B:
A retweet is when you repeat something someone else just posted, usually preceded by RT.
Exhibit C: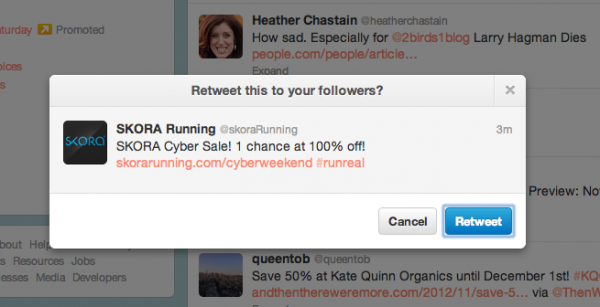 However, retweets can get to be a bit much.  I much prefer this method outlined in There's A Better Way to ReTweet! by Miles Tinsley.  Rather than copy and paste the tweet with a RT in front of it, it's better to create an original tweet introducing the information you are retweeting in your own words.  Then you can give credit to the person who originally tweeted it using via @ (rather than RT @).
Exhibit D:
In the above example, I could have simply retweeted Mom Trends by typing RT and copying and pasting her entire tweet, but instead I took a few extra seconds to create my own tweet with original commentary, but I copied her url link and used "via @momtrends" give credit to her.  It may seem knit-picky, but this really helps keep Twitter fresh.
I will define a hashtag below.
Now on to the questions:
1. How in the world do you keep up with the updates?
You don't. You aren't supposed to, so let that go. You need to view Twitter as a giant cyber cocktail party. (Go ahead, grab a drink if you like!) You can jump in and out of conversations just like you would at a party. Come when you want. Mix, mingle, and leave when you're ready. Don't try to catch up on what you missed. The more people you follow, the more impossible that will be.
2. I notice you're following 2000 people, for example. Do REALLY read all of those updates?
No way, Jose. I do not read every update. I also do not go to the Twitter website to read my updates.
update: I use Tweetdeck, a desktop application that shows all of the updates for the people I follow. It updates automatically every few seconds. I keep it open on my desktop at all times. It looks like this:
When I'm the computer, I keep my eye on it. I jump into the conversation when I have something to say. Sometimes I just ignore it, and sometimes I turn it off (if I find that I'm getting to distracted.)
I make sure to check replies and direct messages frequently so I don't miss any of those. There is a column for each.  Direct messages also can come to you via email, although I turned that option off. There's way too much spam in there, unfortunately.
When I get online for the first time in a while, I may check the last 20 or so tweets, to see if there is anything interesting I want to respond to, but I do not read back and catch up to where I left off last. That would be impossible.
3. Do you Twitter from your phone (and, if you have an iPhone, what app do you use to do it?)?
I have an iPhone, and I love tweeting from my phone!! It helps pass the time when I'm waiting in doctor's offices and and airports and school pick up lines.
4. What does the # symbol mean?
Good question!  The # symbol designates a hashtag. A hashtag is a way of categorizing or tagging posts. That way, everyone who wants to follow what's going on at, say, the BlogHer conference can search for the #blogher hashtag and see all the public tweets using that hashtag.
update: Hashtags are used many times by brands to follow an event, and now that Twitter parties are so popular, hashtags are used for those as well. I'm co-hosting a Twitter party on monday for Lands End, and the hashtag is #LE12hrs. If you search that, you will see all the tweets for that party. It is how the brand can see what the reach of their party is, and it's a way for them to track responses and follow up for prizes.
update: Some groups and clubs use a hashtag to find one another. We use #PSMM to denote posts by and about Philly Social Media Moms members.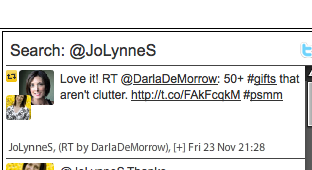 update: If you use Tweetdeck, you can click on the hashtag and then get a new column all for tweets just using that hashtag.
5. When you "unfollow" someone, do they get a notice that you did so?
You can subscribe to a program called Quitter, which emails you when someone unfollows you and also tells you the last thing you tweeted before they unsubscribed. So yes, sometimes they know. I subscribed to Quitter for a while, and I found it quite humorous to see who unsubbed and what I had said. Some people would rather not know that information. Almost always, it was someone I didn't even know, so that's no big deal to me. If you have a thin skin, you probably don't want to use Quitter.
6.  How easy is it to customize your Twitter background?
There are quite a few stock backgrounds to choose from, but I highly recommend getting your own custom background.
update: Twitter has a habit of changing things up regularly so the posts I have written about how to create your own custom background are now defunct. And now they even have a new header photo you have to customize. It's a pain.
This post is pretty recent: How to Create Custom Twitter Backgrounds and Choose Your Twitter Profile Picture. As far as the header profile, Mashable has a good article about that: 4 Quick Tips for a Better Twitter Header.
For more about Twitter ettiquette and how to be someone people want to follow, see this post I wrote for TwiTip — 7 Ways to Be Worth Following On Twitter. I'm pretty proud of this post. I've gotten a ton of great feedback both in the comments and on Twitter, and it was ranked as the most popular post on TwiTip for the month of January. I think I squeeled out loud when I saw that post with little ol' me right there at the top of that list.
I hope this post helps you out if you've been wanting to try Twitter, or maybe you have an account but you're not quite sure how to participate. Or maybe you're more confused than ever. SORRY 'BOUT THAT!
Feel free to ask questions, and I'll answer them in the comments so everyone can benefit.