I've become pretty adventurous with my veggies lately, and the most surprising discovery I've made is that I particularly like bitter greens. But I'm tiring of collards and swiss chard so when I saw fresh, local, organic dandelion greens at the store last week, I decided to give them a try.
So yeah, wow. These guys give a whole new meaning to bitter.
You'll have to tell me what I'm doing wrong because there's no way I can convince my family to try these again unless I totally disguise them in a donut or something.
I looked them up online and it seems as though some people eat them in a salad mixed with a variety of other (and I'll assume sweeter) greens. But I needed a dinner side dish and had no other lettuces on hand, plus I had a ton of the dandelion — way too much to mix into a salad — so I went for a promising recipe that cooks them in boiled water and then mixes them with sauteed onion and garlic. I figured onion and garlic makes almost anything taste good. Except I had no onion, and the only garlic I had was this spring garlic I picked up at the farmers' market.
I'd been wanting to try it, though, and this seemed like it might be a good way to use it. I even had aspirations of creating my very own new and fabulous dish with dandelion greens and spring garlic. Such high hopes . . . dashed in an instant.
I washed the greens and chopped them up, just like the recipe said. Except I didn't wash them in salted water. Hmmm… I wonder if the salt would have altered the taste at all or if it was just for the purpose of cleaning them. I did, however, put salt in the boiling water.
While the greens were boiling happily in a saucepan on the stove, I worked on the spring garlic. I think I probably should have used more, but it was a bit of a process to peel them and I did what I could.
Then I sauteed the garlic in olive oil. I didn't have a dried hot chile pepper so I threw in some red pepper flakes.
Once the greens and the garlic were done, I tossed them all together.
And tasted.
Yeowzahs!!!!! There was no way my kids were going to take a second bite of that. So I did the only thing I knew to do . . . add butter! A lot of it.
I was hoping it would soften the bitterness, and it did, just a bit. But it needed more than just a bit of softening. Still, I shredded some parm for the topping, as suggested in the recipe, and confidently set it on the table without comment.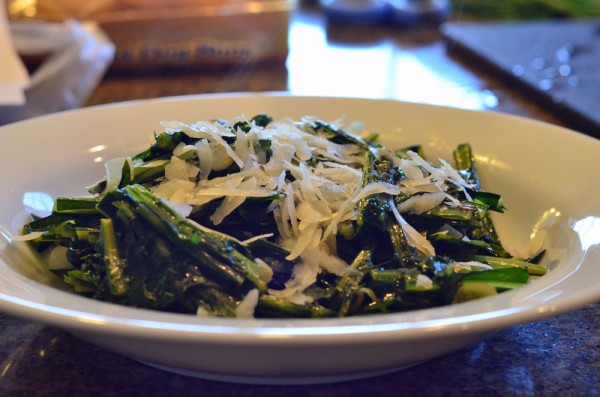 Cause you just never know with kids and husbands. Sometimes they surprise you.
My kids are getting used to finding strange and unusual things on the dinner table, so they were unfazed when I told them these were dandelion greens. My son gamely took a bite. He chewed thoughtfully, swallowed and said, "Hm. Not bad."
See? You just never know.
The others, however, weren't quite so gracious with their responses. They each took one bite and promptly went back to nibbling their hot dogs. I didn't push it.
I did manage to eat my own small portion, so it wasn't too awfully bad, but let's just say I won't be making this recipe again.
Do you eat dandelion greens? Is there any way I can cook them so that they're palatable? Or should I give up on dandelion and try kale next time?