The weather is getting cooler, but there's still plenty of grilling time left. I don't know about you, but I tend to grill out until it drops below freezing. This tequila lime chicken is another Ina Garten favorite. I swear, that woman couldn't steer you wrong if she tried. I have never had a recipe of hers that doesn't become a regular in our rotation.
The flavors are fresh and delicious. The key is to marinate it for at least 8 hours so the chicken absorbs all the delicious flavors. And you definitely want to use fresh limes.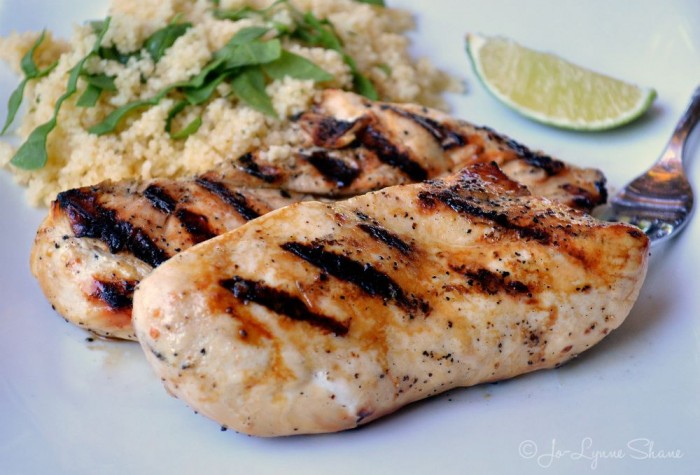 This dish is great served alongside this Avocado Bean Salad. YUM.
ENJOY!

Tequila Lime Chicken
This is a deliciously tangy marinade for grilled chicken, adapted from Ina Garten.
Ingredients
½ cup gold tequila
1 cup freshly squeezed lime juice (5 to 6 limes)
½ cup freshly squeezed orange juice (2 oranges)
1 tablespoon chili powder
3 cloves garlic, minced
2 teaspoons salt
1 teaspoon pepper
4-6 boneless skinless chicken breast halves
Instructions
Combine the marinade ingredients (everything but the chicken) in a bowl and mix.
Place the chicken in a ziploc bag or a glass baking pan and pour the marinade over it, making sure it is thoroughly coated on all sides. Seal and refrigerate overnight.
The next day when you're ready to start dinner, remove the chicken and discard the marinade.
Salt and pepper the chicken on both sides and grill over medium heat until it's just cooked through, flipping once.
Remove from the grill to a plate and cover tightly; let it rest for 5 minutes.
Serve hot or at room temperature.