I've mentioned a few times that I'm a part of the new Target Inner Circle program, a small team of social influencers who get to bring you (my readers) the inside scoop and exclusive access to Target! Our first experience with the program was a trip to New York City to take part in Target's Media Day — a celebration of their 50th anniversary and an opportunity for Target to share their exciting holiday initiatives.
It was really fascinating to be part of this event because I got to hear from (and even meet some) top executives at Target as well as Neiman Marcus, and I was also rubbing shoulders with journalists from publications such as Redbook, New York Times and USA Today. I was definitely wondering at times what on EARTH I was doing there! But it was super fun.
There was a lot of big news being shared yesterday — the most relevant to you is probably their new Holiday Price Match policy and Extended Return Policy. I was thrilled to hear about this because I'm such a huge procrastinator, and so many times I wait too long to return something, only to find out it is too late, and I'm stuck with it. And of course, there is nothing more frustrating than finding out that you bought something and it is available somewhere else for much cheaper, so the Holiday Price Match policy is really smart. Here's the DL.
Holiday Price Match and Extended Return Policies
Between Nov 1 and Dec 16, Target will offer customers the ability to match select online competitors' prices in their stores. These competitors include Walmart, Amazon.com, Best Buy and Toys R Us. AND if you're a REDcard holder, you will also get an extra 30 days on Target's existing return policy if you purchased the product(s) with your REDcard.
I'm personally not a REDcard holder, but I'm tempted to get one — not only because of their Holiday Price Match and return policies, but also because I love that you save 5% on all your REDcard purchases at Target and you get free shipping at Target.com.
I've never done much online shopping at Target, mostly because of the shipping costs, but also because I don't find the site as easy to navigate as I do Amazon. But word on the street (or, you know, at the press event yesterday) is that Target has gone to great lengths to improve their consumer shopping experience online, and I'm interested to try it out and see if it is more competitive with other online retailers.
I still think of Target as an in-store shopping experience, and frankly, it is one of the only stores that I bother with these days. It is so well laid-out and they have so many fun accessories for the home that I usually prefer to browse in the store to shopping online. But who knows, that may change with the updates to their website.
Digital Holiday Shopping
Another really cool thing that Target is rolling out is the ability to shop from television spots (yeah, they are integrating their advertising INTO TV shows — crazy, right??), bus shelter ads and catalog pages using mobile phones and scannable QR codes.
Speaking of QR codes…. THIS is the coolest thing. No really, if you've been scanning up till now, you need to read this carefully.
Target has designated 20 Top Toys — the items they predict to be the most in demand this holiday season — and on those toys, they will have QR codes displayed on the shelves, allowing you to purchase the toy on your mobile hope and have it shipped FOR FREE anywhere in the U.S.
You know how it goes, right? You're wandering thru Target with your boisterous little ones, and they see THAT TOY – the one they MUST HAVE – and you try to sneak it into the cart without their knowing, because how often do you get out without the kids? Practically never, right? So, you sneak it into the cart, hoping to get it unnoticed into the house to put away for holiday gift wrapping.
But somewhere along the way, Junior spots the coveted toy, and it's all over.
Or maybe all is going well until the kindly cashier at the counter blows your cover.
Well, no more!
Now you can surreptitiously scan the item with your phone and have it sent to your house under the cover of darkness (or you know, the UPS man) and then you'll be able to safely tuck it away until you're ready to wrap it for Christmas! Easy peasy!! Thank you, Target!
Target + Neiman Marcus Holiday Collection
The other super cool thing we learned about yesterday is Target's designer collaboration with Neiman Marcus for a holiday collection that is supposed to be unparalleled in the retail space. At first I thought Target and Neimans made somewhat strange bedfellows, but I suppose if you consider that Neiman Marcus is the premier department store shopping experience and Target is the premier big box store shopping experience, it sort of makes sense.
24 designers such as Alice + Olivia, Brian Atwood, Oscar de la Renta, Diane von Fursternberg, Lela Rose, Marc Jacobs, Tory Burch and Robert Rodriguez created products for the holiday collection that will be available in Target and Neiman Marcus stores starting December 1st. There will be limited quantities available, and only 5 of any one item will be allowed per purchase, so keep that in mind!
We got to see all 200 products in this holiday collection, and I have to say that some are super fabulous and some had me scratching my head, wondering who on earth would buy such a thing. But all in all, I think this collection is going to be HUGE this season.
I tried to take photos of my favorite items, but the lighting wasn't great, and I only brought my iPhone (dumb, dumb, dumb) so these are the best I could do. This is the one I snapped when they drew back the curtains for the big reveal.
I love this holiday dress by Robert Rodriguez.
What I like even more is that when I tweeted it, he replied and said thanks. Love that!!
I thought these little girls' holiday dresses by Marchesa were super sweet, but at $99.99 and $79.99, they are pretty pricey for Target.
These dessert plates by Tracy Reese are probably my favorite part of the entire collection. I think they are so fun, and they'd make a fabulous gift for… just about any lady in your life! The set of 4 retails for $39.99.
I don't know exactly who would buy this bike by Alice + Olivia, but I couldn't resist taking a photo of it. It's just so whimsical and fun. And the luggage is to die for.
There is so much more, but these were some of my faves.
After that, we crossed the street to a huge 50th birthday party for Target, where there were tons of VIP guests and more press and more everything.
I found the media line by the back door, where they were waiting for the VIP guests to enter and observed in fascination.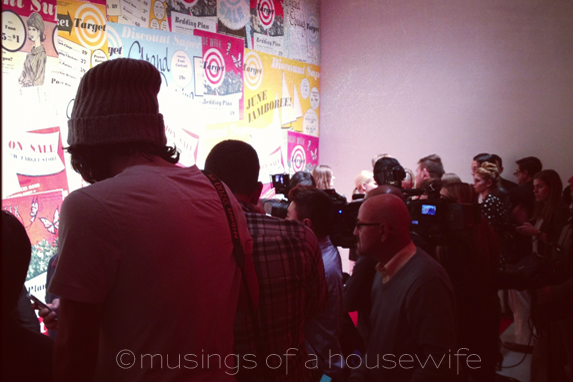 As the VIPs started to enter, I realized how totally out of it I really am. I didn't even know who these people were, but evidently the press did, as they were snapping photos with reckless abandon. I joked on Twitter that if I were cooler, I'd know who these dudes are.
Turns out, the one on the far left was Shawn White, and I'm not sure who else was with him. I do remember him from the Olympics a couple of years ago, and later on some of the ladies in our Target Inner Circle group had a chance to chat with him and snap some photos. He was really sweet.
We also saw Liz Lange and Nate Berkus, and evidently Naomi Watts was there too. I didn't feel like navigating the crowds to get my photo taken with them, but they were very approachable and nice to those who did.
Later on we were treated to a hilarious skit to the tune of Be Our Guest, and I had a front row spot for my photo taking pleasure. It is hard to capture the hilarity of the show, but here's my best shot.
And after that, Alicia Keys appeared to sing Happy Birthday to Target. I admit, I was hoping for more of her, but she was fantastic.
And the night was finally complete when I got to pose with the Target dog — Bullseye! He is live indeed!
And right before we left, Amy and I grabbed a quick photo. Amy is the one of the only two Target Inner Circle bloggers I knew before this trip. It was really fun to share it with her.
Now it's back to life… back to reality for this suburban housewife! As I said, I attended these events as a part of the Target Inner Circle social influencer program. They provided travel expenses so that I could attend this event, but all experiences and opinions expressed in this post are very much my own!!