I have some exciting news. If you follow my Facebook page, you might have already seen that I am now a Stella & Dot stylist!!
I've loved the brand ever since I was introduced to them at a trunk show several years ago, and since then I've picked up a piece or two almost every season. I'm sure you've noticed Stella & Dot pieces in some of my outfit posts.
After a little bit of prodding from my good friend (and now my mentor at Stella & Dot), Jen Oxenford, I decided that I might as well sign on and make it official so I now have my own Stella & Dot online shop that you can purchase from if you desire.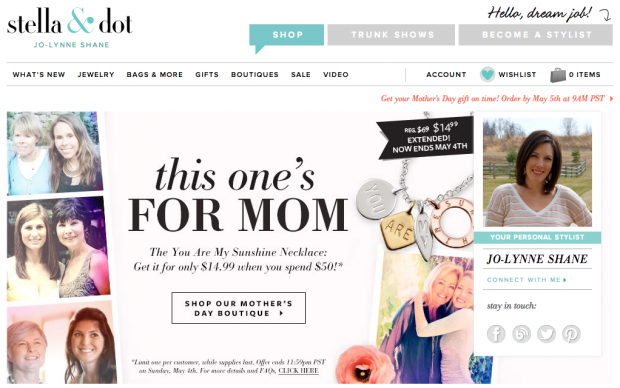 In addition to having a great excuse to buy more accessories (ha!), I'm really excited about the training about accessorizing that I can pass along in my fashion posts. Feel free to email me anytime with questions about the products or how to style them!
The best part so far was ordering my $450 worth of jewelry for my starting fee of $199!!!! It sounds like a lot, but it was NOT easy to narrow it down. In fact, I went a bit over, ahem. But this will be my "inventory" if I do any trunk shows, as well as a nice addition to my own personal accessory wardrobe to wear and enjoy. Curious to see what I picked? Check it out! I tried to get pieces that would work together. I love the trend of mixing metals. It makes it so much easier to mix and match.
As for the blog, I'm sure I will have more Stella & Dot in my jewelry rotation as time goes on, but I will still be featuring plenty of other jewelry brands at various price points. You can trust that I will only recommend products that I truly love, whether you can purchase them through me or not. And I will always disclose when I'm linking to items from my shop.
If you love fashion and accessories, I hope you'll LIKE my Stella & Dot by Jo-Lynne Shane Facebook page, click "Get Notifications" and add it to your Interest Lists so you can see my updates in your newsfeed!! I will be sharing about special promotions and showing ways to style their pieces so it should be a great resource for anyone who loves accessories. I started a separate page so I won't be overwhelming my Musings of a Housewife FB page with S&D. As you can see, I'm really striving for a healthy balance here. The last thing I want is to be that annoying friend who's always trying to sell you something. I know you know what I mean….
That said, I'm pretty excited about this, so I'm hosting virtual trunk show and a giveaway to celebrate my new venture!! Plus I also have a fabulous Mother's Day offer to share with you. First, the Mother's Day offer.
Through this Sunday, May 4th, you can purchase the "You Are My Sunshine necklace" for only $14.99 (it is regularly $69!!!) when you spend $50 (limit one per customer). Check out this necklace. 
How precious is that!!? A great gift for a mom in your life…. or maybe for you!!
For more ​fashion for women over 40, sign up to ​receive my fashion & beauty digest​ in your email inbox for a weekly recap of my fashion and beauty posts!