I've been asked if I think the colored denim trend will continue for another few seasons. While this is a trend I embraced from the beginning, many of you are just starting to get used to the look and considering trying it out for yourself. I definitely think colored denim will stick around a while — especially in the 'burbs where we're not so concerned with being on the cutting edge of fashion.
But.
If you want to get in on the latest trend in denim, I dare you to try a print!
I admit, I didn't love these at first, but I'm starting to come around.
As with any trend, you have to find a way to make it work for you. I've never been a flashy dresser, so I'm not going to go for something like this:
Or this:
But I might wear these.
Or even these: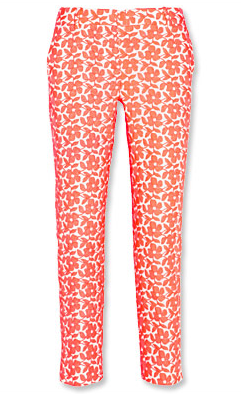 I personally prefer a tone-on-tone print or a very small scale print that reads as a solid. Like these Jacquard Pants from Free People . . . LOVE!!!
And as with any pant, fit is key. If you are more conservative, stick with a traditional slim styling. For me, I will likely stick with denim, as that is my comfort zone.
I love these camo skinny jeans from Gap. And they are running their Gap Friends Event — 35% off your order. WOO!
This coral snakeskin pair is super cute too.
If you really want to tred lightly, try a subtle print in traditional denim tones like these printed skinny ankle jeans by Merona at Target.
I am secretly coveting these Jaguar Print Skinnies by Michael Kors. I wonder if I'd have the guts to wear them.
What do you think? Are you psyched to wear printed pants (again)? Will you wait and see if your eye adjusts to the trend? Or are you going to sit this one out?
For more ​fashion for women over 40, sign up to ​receive my fashion & beauty digest​ in your email inbox for a weekly recap of my fashion and beauty posts!