I have recently discovered Pinterest.
When I first heard about it, I was not eager to jump on this newest bandwagon, but I have begun using it more and more lately as I've discovered how much fun it can be! (And, admittedly, when I learned that it is sending traffic to my blog.)
Even if you are not a blogger, you may enjoy this post, but I am mainly writing this for the bloggers out there who, like me, want to use Pinterest more but aren't sure how to make it beneficial to your blog.
Blogger or not, I can send you an invite to join Pinterest if you want to try it out. Leave me a message in the comments if you want one.
First things first . . .
What is Pinterest?
Pinterest is a virtual bulletin board that "lets you organize and share things you find on the web."
It is highly visual. You pin pictures, which then link back to the website or post where they originated. You categorize them according to their subject, so for example, I have a pin board for food, one for fashion, one for inspirational quotes, and so on.
Check out all of My Pinterest Boards!
How Do I Start?
First you need an invitation to join Pinterest. (Let me know if you need one.) Once you're in, you'll want to set up your profile page. It allows you to upload your photo, write a brief paragraph about yourself, and link to your blog and other social networks.
You will also want to install a Pin It button on your bookmarks toolbar. This allows you to easily pin an image from any site at any time.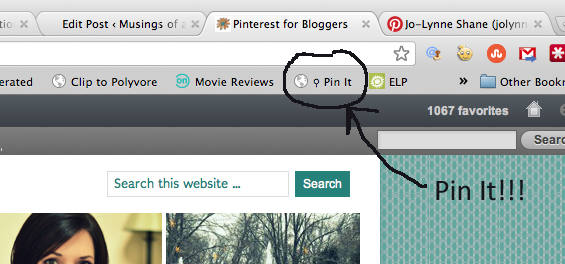 First you may want to peruse the site a bit and see what's out there. You can follow people (meaning you will follow all of their pin boards) or you can follow specific boards that interest you. Whatever boards you are following will show up in your main Pinterest page. It's like a Pinterest feed.
Then start pinning away!
How Do I Pin An Image?
You can "Repin" the images you find on Pinterest and add it to one of your own pin boards. You do this by clicking on the image and selecting the "Repin" button.
Or you can pin photos and images from websites and blogs by clicking the Pin It button in your bookmarks toolbar and then selecting from the images displayed. When you hover over an image, a Pin This button will appear – click on that! (See the blue Pin This button hovering over my Pinterest for Bloggers image? You would click on that.)
It will then prompt you to add a brief description or a comment, and you can categorize it onto the Pin Board of your choosing.
Try to avoid typos, though, mkay? Ooops.
Feel free to add a description that will be helpful if you want to reference it in the future, or to give other Pinterest users an idea what the article it's linking to is about, but never EVER copy content from a website or blog post and put it into the description. That is copyright infringement. (More on that below.)
How To Pin Properly
The goal with pinning is two-fold. You are creating a resource for your personal inspiration and future reference. And you are curating images and information for other Pinterest users to discover.
It is crucial that you pin an image in such a way that you and other users can follow the image back to the originating post. Especially with recipes or tutorials, it is worthless to pin an image that doesn't take you back to the post that shows you how to make it. I learned this early on in my pinning. Therefore, you must pin FROM THE POST, not the main page of the blog.
So, for example.
You go to jolynneshane.com, and pretend that my most recent post is my Chicken Gruyere recipe.
It looks divine (doesn't it!!?) and you want to pin it to your Food board so you can find the recipe when you need it and so others can discover it too! (Thanks so much, you're so kind!)
When you pin the photo of my Chicken Gruyere, DO NOT pin it from my home page — jolynneshane.com. Instead, click on the title of the post, which takes you to the recipe post itself — http://www.jolynneshane.com/2011/03/tried-and-true-chicken-gruyere.html — and pin the image from there.
Because otherwise, what happens is, my Chicken Gruyere post slowly gets buried under new content. And if you pinned it from my home page — jolynneshane.com — then that photo will take Pinterest users back to my home page, not the Chicken Gruyere post. And that would be sad, verrry sad, because then you would not be able to find the recipe! So always, ALWAYS pin images from the web address want the image to link back to.
How Do I Get My Stuff Pinned?
First of all, you have to have content that is pinnable. And in a nutshell, that means pretty pictures or interesting graphics. Pinterest is highly visual, so you need to post eye-catching images so that people will WANT to pin them, and so that Pinterest users will WANT to click and come back to your site to see how to make that delicious recipe or that adorable craft.
Source: A Spicy Perspective via Jo-Lynne on Pinterest
I almost always include a photo in my posts. I try to include my own photos, but sometimes I buy them on iStock if I have nothing that fits. I like the idea of creating a graphic to fit with a post. I did that with this one, just to try it out. But that's something that I haven't done much of because, let's face it, it is time consuming. I prefer to put my time into my writing, but we'll see where Pinterest takes us. I do predict that you will start to see a lot more graphics included in posts as Pinterest continues to grow and bloggers realize the value of making their posts more visually pleasing.
Protect Your Photos
One bit concern with Pinterest is that it makes it easier for people to steal and claim your photos. This is why many bloggers put a watermark on their images with their blog's URL. That way, if someone does try to steal it, or when they pin the image incorrectly, the url is on the image so users can find the right blog. It would be too lengthy to put the post URL in the watermark, but at least if you get them as far as your blog, they can search the topic in your Search Bar. (You do have a Search Bar on your blog, right???)
Make it easy for your readers to pin your stuff!
Add a Pin It button to your posts and a link to your Pinterest page on your sidebar. You can grab one from the Pinterest Goodies page.
I am also using a WordPress plugin called Pin It On Pinterest that allows me to include a Pin It button on individual posts and I can even choose the image to pin and include my own description. I have done that on this post, as you can see below underneath my Link Within images.
Can I Pin My Own Stuff?
In a word . . . sparingly.
Like any other social network, it is okay to promote your own material IF AND ONLY IF you are promoting other people's material WAY more. I go for the 90/10 rule. I only pin my own stuff about 10% of the time.
For instance, I made a board for blogging tutorials and most of them are mine. If I really wanted to work it, I would create custom graphics that are more interesting than my own blog buttons. Maybe I'll get around to doing that . . . some day!
Using Others' Pinterest Images In Your Posts
So you find a gorgeous photo on Pinterest that you would love to include in a post. Is this kosher?
Yes, but. As with everything, you want to give proper attribution. 
Say I'm writing a fashion post about casual weekend wear. I love this outfit I found on Pinterest. I right click and save it to my desktop and then insert the image in my post.
Then under the picture, I want to include proper attribution. If you click on the image in Pinterest, it will take you back to the originating site, in this case, a post on All Things Chic! Beneath the image, I will write the following:
Source: allthingschic.net (note that I link TO THE POST – http://allthingschic.net/2012/01/fashion-friday-weekend-casual.html – not to the home page) via Jo-Lynne (linking to my Pinterest home page or my Style Board, whichever) on Pinterest (pinterest.com)
So it will look like this:
Source: All Things Chic via Jo-Lynne on Pinterest
So yes, you can use images you find on Pinterest if you attribute them to their rightful owner, AND IF you follow them back to their source and they are not protected by copyright. (For instance, on Flickr, some images say "all rights reserved" — I would not republish those.)
So What Was That Bit About Copyright Infringement?
The other thing I want to discuss is the issue of copyright infringement and content theft on the Internet.
Some people are under the mistaken impression that the Internet is a free for all and any information is up for grabs. This is not true. In fact, copyright law extends to the internet and all things digital. For more information on this issue, you can read my friend Julie's post: Pinterest: educate your users about content theft.
Suffice it to say, you never EVER want to pin someone's recipe or craft tutorial and include their post in your description.
More Pinterest Resources
Is your head spinning? Do you feel this post is way over your head? Read Megan's Beginner's Guide to Pinterest.
Are you a blogger who wants to know even more about how to optimize Pinterest for traffic growth? Read The Nester's post on Pinterest and Blogging.
Want more?? Kelby has a slew of posts about Pinterest here: Talk of the Parent Blogosphere, Pinterest Obsessed Edition.