Night away, that is.
Why yes, we had a lovely night at the Hyatt on Friday, thanks for asking.  Heh.  I always say, the first prerequisite for blogging is the ability to crack yourself up.  At least I have that part patted down.  (My mom used to have a secretary for whom English was a second language and she would often get her American colloquialisms screwed up, which was always a source of amusement for our family.  Instead of "down pat" she would say "patted down," and to this day, I can't say that I have something down pat without wanting to say patted down.)
AT ANY RATE, my Mother's Day started early.  I believe I mentioned that my husband took Friday off from work so that I could attend my son's Mother's Day Tea and get my nails done for our overnight getaway.  I went for bright coral on my toes.  Coral in the springtime makes me happy.  I opted for a pale neutral tone on my fingernails because that way the chips don't show, which is key in choosing nail color because invariably I manage to chip my nails before my manicure is a day old.
My parents arrived early in the afternoon, so my husband and I took off for the city as soon as we could detangle ourselves from our children.  Ha.  In reality, they barely noticed that we left.  And while I'd prefer that over drama and bedlam, I have to admit I felt a little cheated when they barely looked up from their activities to say good-bye.  Not to worry, though; I got over it as soon as we entered the luxurious Park Hyatt Philadelphia at the Bellevue.
We took the elevator right up to the 19th floor, which dumped us out at the XIX Nineteen Cafe with its stunning architecture and domed ceiling.  Their famed afternoon tea was laid out and waiting for those fortunate enough to have reservations.  Note to self: return for Tea Atop the Bellevue.  I've heard about it for years, but now I MUST make it a priority to go sometime.
Photo credit: parkphiladelphia.hyatt.com
After checking in, we found our room, which was on the 17th floor.  There was sparkling lemonade and these delightful little vanilla cookies waiting for us to devour them.  I just LOVE special little touches like that!
Even though it's an older hotel and the room was on the smaller side, everything about it was elegant and well-appointed.  Nothing about the decor was the least bit tired or worn.  The bed had one of those fabulous fluffy goose down duvets and pillow top mattresses that I had a hard time leaving the next morning.  I could have stayed in bed all day.
Even the bathroom was fit for royalty with its marble and gold and fancy shower curtain.
I expected a lovely view but of course we were right downtown Philadelphia and the view was mostly rooftops.  Still, after living in a neighborhood surrounded by farms for the last 3 years, it was neat to look out and see city.
(We left our laptops at home, but our Blackberries are never out of reach.)
We attempted a self-portrait before leaving our room but it didn't turn out too well.  Have I mentioned my camera needs a doctor?  The flash doesn't work so we're forced to take flashless photos.  This is the best we could do.  And no, I'm not pregnant.  And I don't think that dress makes me look pregnant, but the way I'm standing in that picture is far from flattering.  How I long to be one of those people who instinctively knows how to stand in photos so they don't look, well, pregnant.
This is when we decided to enjoy the rest of our getaway without worrying about capturing everything on film, or worse yet, looking like tourists.  So we made an executive decision to ditch the camera before going out for the evening, which is why the plethora of photos will now cease.
Our dinner reservations weren't until 7:30, so to kill time we decided to venture upstairs to the stylish XIX Nineteen Lounge for cocktails.  I had a pineapple mojito that was in a word — YUM.  Must. Learn. To. Make. At. Home.
Like true country bumpkins, we managed to get lost after leaving the hotel for our dinner destination.  Somehow a walk that should have been a block turned into four.  Fortunately I had made a last minute decision to ditch my high heels in lieu of my flat silver sandals, so I survived the unexpected tour of the theater district with nary a blister.
We ate downstairs at the Sotto Varalli of the Upstares & Sotto Varalli Restaurant.  I have to say, it was an odd experience.  We basically picked the restaurant on a blind Google search because it was close to our hotel and the website looked promising.  The food and service was superb, but the atmosphere was what my husband described as Howard Johnson circa 1979.  For one thing, it smelled like a stuffy old hotel, and the decor was incredibly dated.  Oddly enough, it didn't look worn so I have to believe it was intentional — like they were going for some sort of retro flair.  I wish I'd done more reading about it before we went because I would have made our reservations at the Upstares part of their restaurant where the view appears to be spectacular.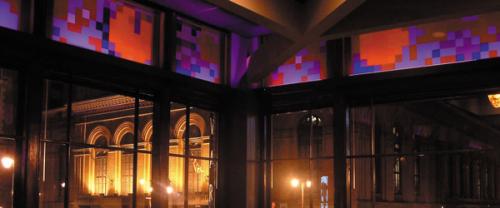 Photo credit:  VaralliUSA.com
Fortunately the food was quite modern in presentation and composition, and it was remarkably fresh. We shared a generous plate of 4 varieties of Bruchetta and a salad, and then I had a crab cake from the appetizer menu as my entree.  It was just the way I like them, with very little filler and huge chunks of fresh jumbo lump crab meat.  It was served on top of a bed of peppery arugula and a corn salsa — DIVINE.  I would order it again in a heartbeat.  For dessert, my husband ordered the Tiramisu, and I ordered a second fork so I could snag a few bites when he wasn't looking.  Overall, it was a lovely dining experience, with the exception of the kids calling right when we received our main course.  Which just goes to show, you can leave the kids behind but they will somehow manage to haunt you at the worst possible moment.
Of course, I would have been happy at McDonalds as long as I didn't have to open a Happy Meal toy or spend half the time with a small child in the bathroom.  That, in and of itself, made the dining experience a novelty in my book.
I realize I need to wrap this up for the three of you who are still reading.  I know if you want people to read your posts, you should keep them short and skimmable.  Unfortunately brief is not my strong suit so for those of you still with me, bless your hearts.  I still want to tell you about our Saturday but I'll save that for another day.
Finally, allow me to give a big muchas gracias to Hyatt's The Big Welcome promotion, which provided us (and my five lucky giveaway winners) with a free night at the Hyatt.