Mother's Day is fast approaching, and many of us have mothers and daughters and other women in our lives we want to honor on this momentous Hallmark-inspired occasion.
I jest. Truly, I love Hallmark. They make the best cards – especially the Shoebox ones. I could sit and read those all day just for the fun of it.
Anyway. Mother's Day may seem like a contrived event, but I've gotta tell ya. As a mom, I really enjoy having a day set aside to be appreciated. Call me self-centered if you want, but it's not very often we moms get a day off.
We aren't big on Mother's Day presents in my house (not that I'd turn one down, but they really aren't on my husband's radar, and frankly, I'm just as happy with a day off) but I do like to get a little something for my own mom, and maybe you do too. Or if you are blessed with grandkids, perhaps you like to give a token of appreciation to you daughters or daughters-in-law. So I compiled a list of gift ideas, large and small, that might inspire you. And if you see something on here that you really like, feel free to forward this post along to your hubby.
I'm including links to some of my affiliate partners to help support running Musings of a Housewife, but I received no monetary compensation for this post.
Gift Guide: Mother's Day 2013
---
The Genet Scarf
Back in December, The ONE campaign and fashionABLE teamed up with Alt SLC to design a scarf that was voted on by conference attendees and then handmade in Ethiopia for an exclusive ONE | fashionABLE Mother's Day Scarf.
This is THAT SCARF.
Each handmade scarf takes three days to make and is named The Genet after one of the amazing women who helped produce it. The Genet is available on the ONE website and at fashionABLE. You can read more about Genet's story below, but I can't imagine a more lovely and heartfelt Mother's Day gift than this — a beautiful accessory that also helps women born into poverty have a respectable profession and a better life. I haven't seen the scarf up front and personal, but it looks gorgeous and I love to support a good cause.
About Genet
"I don't remember my birth mother, and I don't know my birthday or actual age, so the timeline of my story is based on my best guess. I was brought from the countryside into the city of Addis at age 3 by an aunt who promised my family I would be sent to school and have a "better life." Instead, I was groomed to be a housemaid and given so many responsibilities that the load of work become impossible and overwhelming. By age 12, I ran away and began living on the street. I felt lost and was continually raped. Eventually, I became pregnant. With a baby at 15, I learned to have sex for money so I could support her. I coped with life through drinking, drugs and smoking. I recently learned about this program and am enrolled in counseling to work through my addictions, my childhood trauma, and learn ways to reconnect with my now 6-year-old daughter. I am also working at fashionABLE and grateful to have a job that provides dignity."
---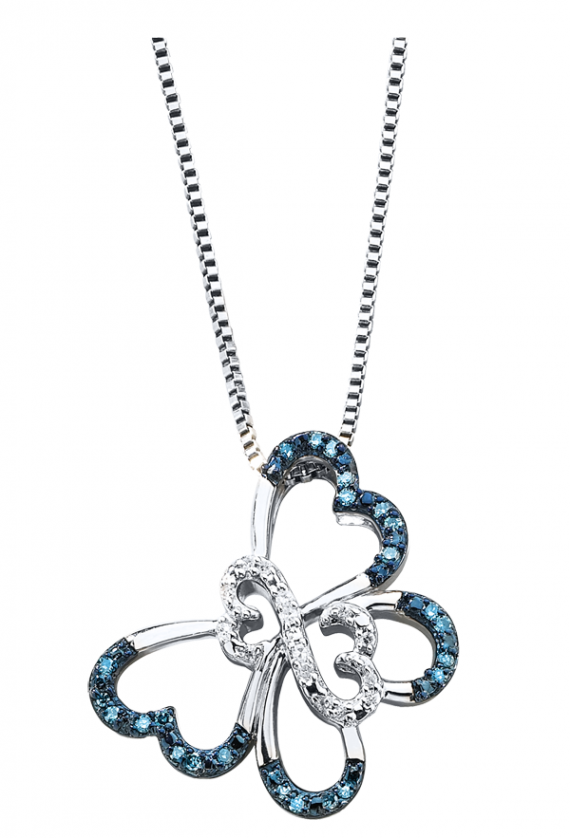 If you do have a honey who buys you baubles on Mother's Day, check out this sweet Open Hearts Butterfly Necklace from KAY Jewelers' Jane Seymour Open Hearts Family collection.
A charming butterfly features the iconic Open Hearts by Jane Seymour® design at its center and is adorned in round blue and white diamonds. The pendant sways from an 18-inch box chain that secures with a lobster clasp. The sterling silver necklace has a total diamond weight of 1/10 carat. Blue diamonds are treated to permanently create their intense blue color.
Out of everything in her collection, I was immediately drawn to this one.
---
Pure Natural Diva Botanicals Gift Giving Made Easy Trio
My friend Tania Reuben just launched a line of all natural botanical perfumes, and I'm really excited to share them with you. This Gift Giving Made Easy Trio takes the guess work out of gift giving. This way she can choose which one she likes best! Or she can wear them all (just not all at once… please.)
---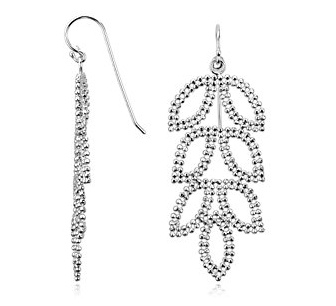 I've always thought of Blue Nile as a place for diamonds and wedding jewelry, but they also have fashion jewelry like these Leaf Chandelier Earrings.
Chic and distinct, these chandelier earrings feature seven delicate leaves that are intricately captured in sterling silver with a flexible design for movement.
They sent me a pair for myself and another to give away to one lucky reader, so be sure to stay tuned for a giveaway at the end of this post!
---
Clarisonic Aria infuses sonic cleansing with a harmonic blend of function and form. Sleek, modern, intuitive, Aria sings with 3 speeds, a real-time battery life indicator, USB-enabled pLink charger, and a drying stand that converts to a charging station when coupled with the pLink charger.
I recommend the Clarisonic in almost every gift guide because I think it's such a perfect gift for "the woman who has everything". I love mine, it's the best tool I have for keeping my skin smooth and clear. And if you order before May 1, you get free shipping.
---
Jessica at The Mom Creative has a post with 20 Mother's Day Gift Ideas from DaySpring's Redeemed Collection that are worth checking out.
---
And if you liked to give homemade gifts, I love this Memory Jar gift idea from Heather at Diapered Knights.
---
Like to keep it in the family? Here are 20 American Made Mother's Day gift ideas from Made in USA Challenge.
---
Find more Mother's Day gift ideas on my Pinterest board — Mother's Day Gift Ideas.
WIN IT!
One lucky reader will win a pair of Leaf Chandelier Earrings from Blue Nile. To enter to win, simply leave a comment on this post sharing one of your favorite Mother's Day gift ideas — either from this list or one of your own!
I will draw a winner next Friday, May 3rd. GOOD LUCK!
fine print: Winner must have a U.S. or Canadian mailing address. I will use the And The Winner Is plugin for WordPress to randomly select a winner on May 3, 2013. When the comments are closed on this post, you will know the giveaway is over. I will send a personal email, giving the winner three days to accept. If there is no reply, I will select another winner. See my Giveaway Policies for more details.