I was recently invited to try out Glossybox — a monthly beauty subscription service and one of my newest affiliate partners.
I've heard about these beauty sample services and seen other bloggers sharing their boxes of beauty products each month and I've been intrigued. It seems like a great way to try out new products without the commitment of purchasing full sizes.
There are several similar services, but Glossybox is known for being a prestige beauty subscription service. In their words:
We provide members with exclusive access to international luxury through a curated box of treasured beauty finds. Every month we send out a beautiful box with 5 deluxe size beauty products from premium brands.
In other words, this is good stuff, y'all!
A Glossybox subscription is $21/month, and you can save more when you sign up for 3, 6, or 12-month subscriptions. My subscription was provided for review consideration.
The Box
My first box arrived last week, and I eagerly dove in.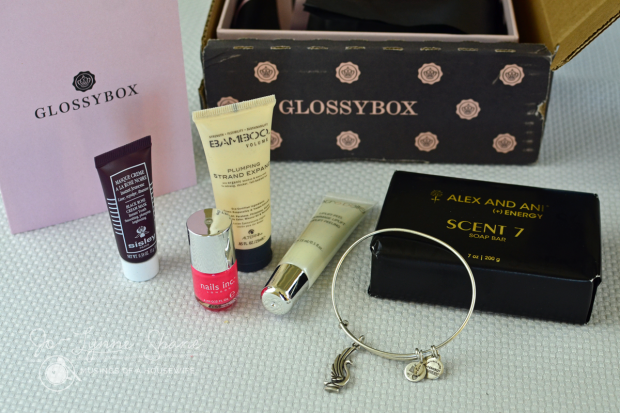 The first thing I noticed when I opened the box was the scent of the Alex and Ani Scent 7 soap bar — it smells divine!
Alex and Ani Scent 7 Soap Bar
Inspired by ancient alchemy, and scented with warm spice and sweet floral undertones, Scent 7 Soap Bar is crafted with essential oils that embody the four elements: earth, air, fire, and water. Created with shea butter and coconut oil, Scent 7 Soap Bar effectively nurtures the skin, increasing hydration and thoroughly cleansing the body.
I've been showering with this daily, and I love that my bathroom now carries this scent! I'm usually a Dove girl. I don't tend to experiment with different soaps, but I'm totally addicted to this. It has a lot of lather and it makes my skin feel smooth even before I lotion. AND it's made in America, which is fantastic. I love that it's crafted with essential oils and all natural ingredients, and I'm definitely sold on this product. It retails for $14.
Alex and Ani has an entire body collection using their Scent 7, which would make a fabulous gift for someone special this Mother's Day . . . just sayin'.
Alterna Haircare BAMBOO Volume Plumping Strand Expand
A thickening lotion that strengthens, moisturizes, and adds volume to the hair from root to tip. Hair appears full-bodied and never weighed down. Free of Parabens, Sulfates, Phthalates, Synthetic Color, Sodium Chloride, Gluten, DEA/TEA & Triclosan.
I really love the texture this product gives to my thin hair. It retails for $22 (for a 4 oz product) which is about right for salon quality haircare products. I will probably stick with my favorite Bumble & Bumble because I am happy with it, but this is certainly a great product to consider if you have thin hair and you want to give it a boost.
être belle Liplift Peel
A gentle and moisturizing exfoliator for the lip area. It gently removes dead cells and refines the surface skin.
This was a product I was super excited to try. I've read many times that it's important to exfoliate your lips, but I've never bothered to purchase a product designed specifically for lips. My lips are very dry so this is perfect for me. I have only used this once, but I will definitely be making it a part of my weekly routine. I can't say yet whether or not I would purchase it again, but it's definitely one of my favorite products from this first Glossybox order so far. This  0.5 fl oz product retails for $17.80.
Brook Street Nail Polish
Skip ahead to warmer times by wearing this bright, summery coral. Nails inc polishes are professionally formulated for a long lasting, super glossy, flawless finish.
Mea culpa! I haven't tried this yet. I'm usually a salon mani girl, but I haven't been to the salon in a while, and I never got around to doing them myself. It's a pretty color, though! Coral is one of my favorite nail polish colors for spring/summer. In fact, my toenails are coral right now. A .33 oz bottle retails for $9.50.
Sisley Paris Black Rose Cream Mask
Rich in active anti-aging ingredients, it immediately gets to work on signs of fatigue and leaves the skin looking youthful and energized.
Another mea culpa on this one. I have been using the Tria Laser every night, and I wasn't sure I should be using a masque in addition to that right now. This stuff sounds fabulous and I cannot WAIT to try it. A full-size 2.1 oz product retails for $158 so it's definitely a bit of an investment. When I get around to trying it, I'll let you know what I think.
The Verdict
I like it! I feel like this box was a great value for $21. The soap itself was full-sized. The other products are all ones that I will continue to use up, and it's a great way to be introduced to brands that I wouldn't otherwise discover.
The April box is on sale now. Join today and take advantage of one of two special offers. With any new subscription purchase, you may:
Use the code PINK for a free Glossybox blush.
OR use the code BONUS for a free Beauty Blender ($20 value.) I've heard wonderful things about this blender. That's a super deal!
Win It!
Glossybox is providing one Musings of a Housewife reader with a free Glossybox. Use the Rafflecopter widget below to enter the contest.
Contest ends Wednesday, April 16, 2014 at 11:59 EST. Winner will be drawn at random and notified via email on Thursday, April 17, 2014. Winner has 3 days to accept the prize or forfeit. Prize fulfillment provided by Glossybox.
Glossybox is providing my 3-month subscription for review consideration. They are also one of my affiliate partners so all links to the Glossybox website are affiliate links. I am not receiving any further compensation, and all opinions are 100% my own.