Good morning, friends! Did you have a nice Valentine's Day yesterday? It was fun seeing everyone's pictures on Facebook and Instagram. I spent the evening in an elementary school gymnasium watching my daughter play basketball, and of course I never got around to making a cake. I did pick up some chocolates for the kids, and they were happy with that.
Today's outfit is pretty basic, but then basic is my jam. LOL! I'm calling this a late winter date night outfit, although it would work for lots of things. The key to making a simple outfit like this look chic and put together is proper fit and fun accessories.
This sweater is probably an inch shorter than ideal with this outfit, but I think it works. Plus, I tend to tug it down as I wear it, although it rode up a bit during our photo shoot. It's very stretchy.
It was chilly, so I initially was planning to wear a black turtleneck with my jeans and chestnut OTK boots. When I got the outfit on, though, I felt like the turtleneck made me look top heavy, and I realized it wasn't as cold outside as I'd thought, so I decided I could get away with a thinner top. I was planning to wear this on our Saturday night dinner date, but then that bell sleeve top arrived in the mail and I wore it instead with pink pumps, but I digress.
This ribbed scoop neck sweater from Banana Republic is a great wardrobe basic because it stands alone with the pretty detail in the knit, but it also makes a nice layering piece. In fact, looking at pictures of this outfit, I'm thinking I probably should have thrown my black moto jacket on with it. I styled it that way with a flannel skirt a few weeks ago, you may remember.
Sale Alert >> Take 40% off full price items at Banana Republic with code BRLOVE!
That would certainly work, but it wouldn't have been warm enough for this past weekend. I needed to wear a winter coat, and since it was Valentine's Day weekend, I decided to wear my red wool peacoat.
Mine is a few years old, but this one is similar and on sale for $89. I also like this one that's on sale for $114. For a splurge that is a great deal right now, this one is 50% off from $700. It also comes in a gorgeous camel. It has the buttoned back half-belt like mine does, and it is 100% wool.
You really can't go wrong with a black top, blue jeans, and chestnut boots, but I pulled it all together with some accessories that combined black and brown. I will use any excuse to carry my leopard clutch. It's a great accessory that pops almost any outfit.
This choker and my bracelet set are old, but they both bring in the brown tones that pull from the boots and the bag. That's not necessary to make the outfit work, but I thought it was fun. Another option would be to bring in some color in my jewelry, like the red from my coat, or pink would be fun too for this time of year.
These OTK boots are from last year, but I love this style. They are just casual enough that I don't feel fussy, and they are super comfortable. I considered wearing my black OTK boots instead, but I like the way these make the look more casual and bring out the brown from the leopard clutch.
Everything is super picked over right now, so I can't find much to even link to, but for future reference, mine are the Dolce Vita brand, and Vince Camuto made a similar pair this year. Both brands have the same great quality at a mid-range price point. If you're in the market for some right now, I like these and these for a similar look. I love how Zappo's has the video feature so you can really get an idea how shoes and boots look on. I use it all the time.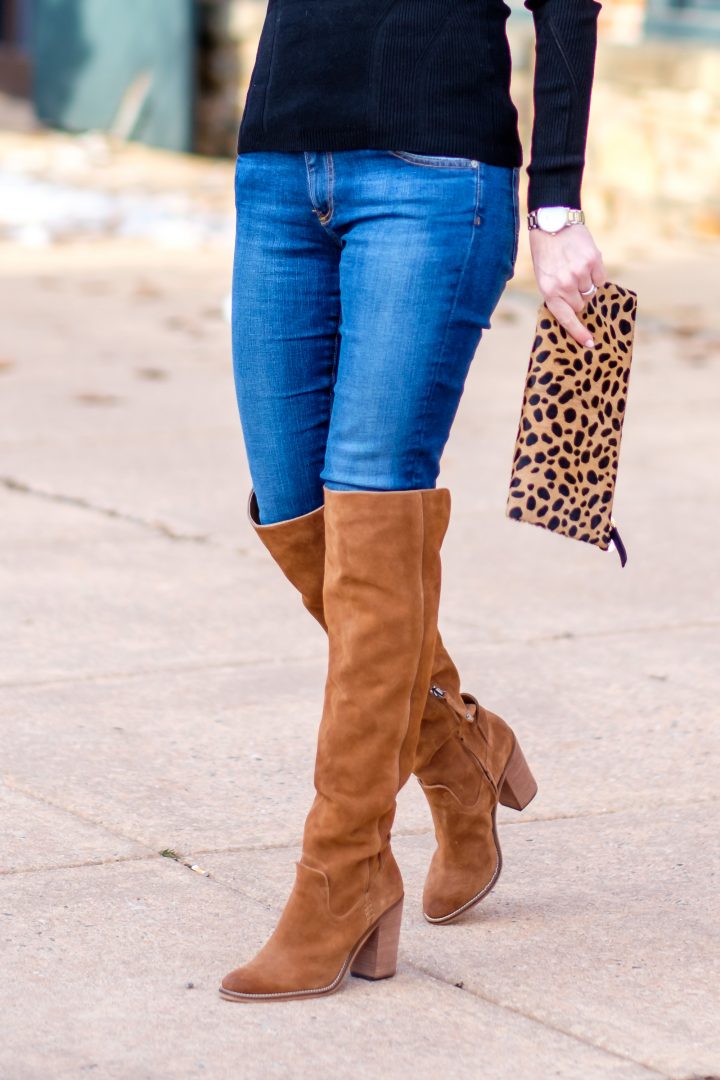 Simple outfits like this are what I'm all about. It's fun to experiment and try new things, but at the end of the day, I will always love a black sweater with blue jeans and a pair of great boots. Add a few accessories and a sassy coat, and I'm good to go!
BR scoop neck sweater (40% off with code BRLOVE) // AG skinny jeans (similar for less at LOFT) // similar OTK boots here and here // leopard clutch (similar for less) // Stella & Dot lace chandeliers // similar choker
Did you like this post?
Subscribe to get updates in your email inbox! I share a bit more of my daily life in my emails, and then I always link over to my most recent blog post(s). You can also connect with me on Instagram and Facebook, and I'm occasionally on Snapchat.
This post contains affiliate links. For more information on what that means, see my About Page: Blog Monetization and Disclosure.