With the holiday, I didn't get around to writing a Fashion Friday post this week, so I'm joining up with InstaFriday today and sharing my favorite Instagram photos from the past week. So y'all have to tell me if you enjoy this feature or not. I think it's fun, and I enjoy seeing others' posts but I haven't exactly had an outpouring of comments and interaction on these posts so maybe it's just not resonating. Let me know what you think.
I'm jolynneshane on Instagram if you want to follow along!
For kicks and giggles, I'm going to work backwards this week. I know, I'm such a rebel!
I made Flag Fruit Kabobs yesterday in honor of the Fourth. I thought they turned out really cute, but my bananas still got a little brown. I didn't have lemon juice so I tossed them in apple cider vinegar, which didn't exactly smell wonderful but fortunately it didn't alter the flavor too much.
Yesterday morning, I ran a 10K (that is 6.2 miles) in 78 degree heat and 92% humidity. Fortunately the sun stayed behind the clouds (no surprise there, we haven't seen the sun more than 5 minutes at a time since 1972 – or so it seems) so it wasn't to horribly hot. And people sat out on their lawns to cheer us on and had water stations and sprinklers to help keep us cool. I was drenched by the end, but I ran it in just under an hour, which was my goal — 59:24 was my exact time. YAY ME!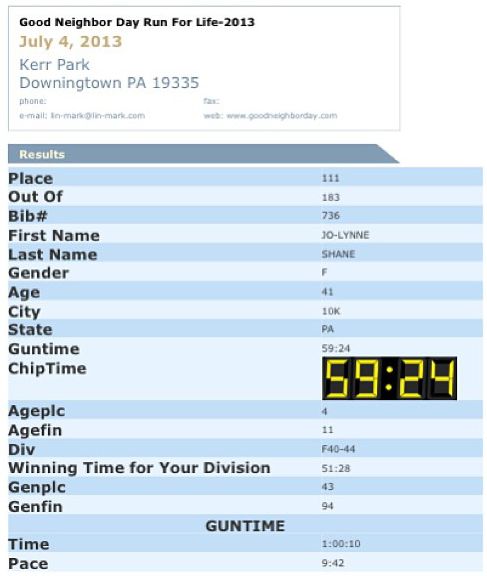 After my race, the girls enjoyed funnel cake. Yes, it was 10am, as my neighbor so kindly pointed out. So sue me. I'm not a fan of carnival junkfood, but we do indulge on occasion.
I miss my boy; he is away at sleepover camp this week.
On our way to our car we stopped and bought some fireworks to enjoy later that evening. I didn't even take pictures, but the girls had a blast with their sparklers last night. I was getting eaten alive by mosquitos so I came inside.
I've been testing out sangria recipes for ye olde blawg. It's a rough job I've got here. I'm sure you all secretly want to be me.
Monday night my husband took me out to a nice farm to table restaurant for my birthday dinner. Yes, I am one of THOSE PEOPLE who takes photos of my food and puts them on all my social media channels. I do this just to annoy you, of course. No, really, I just enjoy pretty food and despite the public outcry, I know some people like them too. If it's not your thing, look away! Cuz I post a lot of food!
I mean, really, how can you say this cheese tray isn't gorgeous!?
This strawberry arugula salad was lovely too.
I didn't bother with a photo of my dinner. I had a delicious salmon though. Finally, this gluten-free peach dessert was too pretty not to document and share with my 900 Instagram followers.
And wait! Yes, there is MORE FOOD! This was my birthday breakfast — a gluten free cupcake from local shop Iced By Betsy and a cup of my favorite Starbucks Sumatra. NOM.
I've been wanting a white board for the big empty wall behind my desk in my office, so when I was away in California last week, my family bought me this, hung it, and decorated it so it greeted me when I got home. Cute, right?
I took this picture out the airplane window on my trip home from Cali last week. I thought it was utterly breathtaking.
This picture was taken in the Bosch test kitchen last week. We made our own lunch under the direction of their executive chef, and then we all sat down to a feast. I helped make these sautéed figs with lavender honey, goat cheese and mint. They were SO GOOD. Yep, more food photos.
This built-in coffee station WILL be in my kitchen one day. I will see to it. It makes every kind of coffee imaginable, in about 30 seconds, and it tastes like barista quality. It's amazaballs!! They had one in almost every room in their Experience and Design Center. We were making coffee every time we switched rooms. It's a wonder we weren't all hanging on the ceiling by the end of the day!
Finally, I'll end with this one. I have a ton more; but I have to meet a friend to run in 30 minutes and I am not even dressed yet. Yikes!!
These gorgeous ladies are the bloggers who are part of the Bosch consumer test program with me. We had so much fun together.
That's a wrap. Let me know if you're playing along with InstaFriday this week, and I'll be sure to stop by and visit!