In my recent reader survey (which is still open, so feel free to add your 2 cents!!) someone asked this:
Please tell me how to wear the Tom's booties. I bought them, and I can't figure out how to wear them.
Since the survey is anonymous and I have no clue how to contact the person who asked, I thought I'd make a blog post out of it.
I confess, I haven't worn these as much as I expected I would (or as much as I would like to) but sometimes I do find they are hard to style, and also, it is COLD and I tend to revert to my taller boots that cover more of the leg.
I still love my Toms Desert Booties, though, and I am determined to get more wear out of them in the next few months. They really go a long way towards updating my look. Booties are more now that knee-high boots, even though I dare say knee-high boots aren't going anywhere anytime soon.
The best way I know to answer your question is to show you photos of how I've worn them. Take a look!
The key, for me, is to wear skinny jeans and roll them so they end just above the top of the shoe.
I do a narrow cuff, not too wide, and they definitely have to be a skinny fit. A straight leg jean would not work.
I did not roll my camo pants when I wore them with those since they are already sort of cropped.
My favorite way to wear them is definitely cuffed with skinnies. Here's another outfit. Since they are a neutral color, they work with most things, but I do like to have a hint of that sand color in my outfit somewhere. It's in the camo jeans, and in this leopard scarf.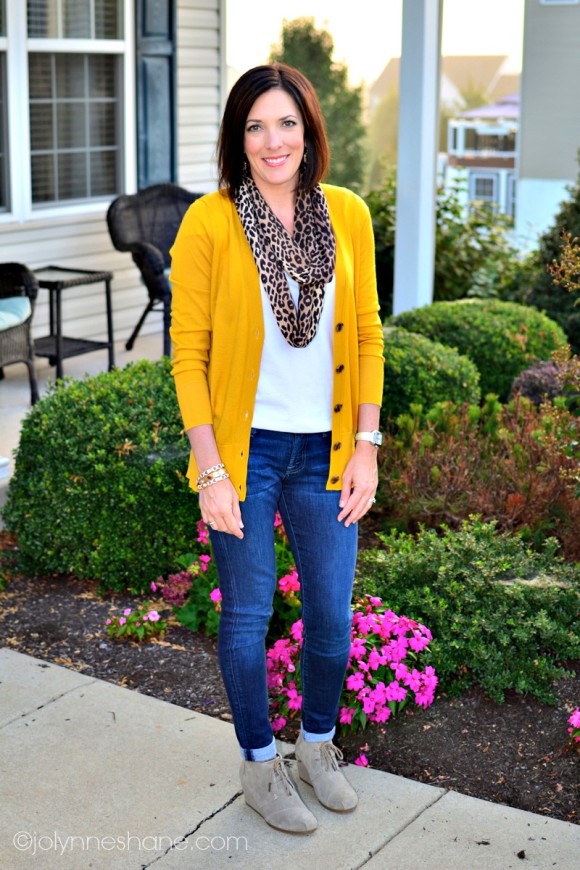 It's also in the coral blouse shown above, and it seems to work with the army green in the utility jacket in the first photo. Plus it's in that scarf as well.
I haven't tried them with skirts or a dress; I just don't have the right thing — and I'm not sure what the right thing would be. If you follow along with my Daily Mom Style posts, you will know I'm much more comfortable in jeans than skirts.
One thing you can do is search Pinterest for fashion inspiration. I found that helpful when I first got my Toms Desert Booties. I just searched for them, and I came up with a lot of different looks. Good luck!!
For more ​fashion for women over 40, sign up to ​receive my fashion & beauty digest​ in your email inbox for a weekly recap of my fashion and beauty posts!