updated 02.11.12
Everyone wants to know how to protect their photos online, especially with the frenzy surrounding Pinterest these days. Sure, we love having our photography shared and pinned, but we do want proper credit for our work.
Attorney Sara Hawkins advises everyone to put a copyright notice and their website url on their photos and images. This is simple to do, and if you regularly post photos on your blog, you will probably want to add this extra step to your posting process. (I know, one more thing to do! Don't shoot the messenger!)
How to Watermark and Protect Your Photos
1. Open your photo in your favorite photo editing software.
For this tutorial, I will use PicMonkey.com (a free online photo editing tool) so my directions are accessible for everyone.
Here is the photo I plan to watermark — a photo of banana bread that I made for a recipe post.
2. First, do any photo editing you want to do.
This is where you rotate, crop, adjust saturation, etc. I would also suggest resizing it for your blog so as to not take up unnecessary room on your server. I generally make my images 600 pixels wide because I know that size fits neatly into my blog's content column.
3. Select the text tool.
Every photo editing program has the option to add text, it's just a matter of finding it in the program you're using. In PicMonkey, you will click on the P from the vertical menu bar on the left.
4. Type in the information you want to show on your image.
I recommend using the copyright symbol, even though it shouldn't be necessary. (If the image is yours, it is automatically protected under a common law copyright; but many people aren't aware of this and think that photos on the Internet are up for grabs, so it's best to have your images clearly marked as copyrighted.) To make the copyright symbol on a Mac, you use OPTION+G. On a PC, it is ALT+CTRL+C.
You also probably want to include your blog name, and you can also include your blog's URL if you desire.
Some also like to include the title of the post, if it is an image they hope will be pinned and linked back to their post — such as the How to Watermark Photos image above. Bloggers who post a lot of recipes and craft tutorials will put the title of the post on their photos so people know that there are directions to go along with the image if they click through to the source.
5. Adjust the color, size and transparency of your font.
I decided to use white lettering to show up better on the black background, and I chose a fun font. PicMonkey has tons to choose from. Don't go too crazy, though. Generally 2 fonts is enough on one image. Not all fonts include the copyright symbol, so that limits you somewhat. Otherwise, have fun!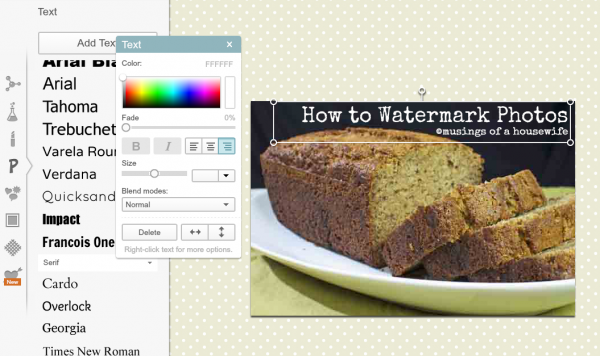 You can see that I moved the the text around until I found the spot where I liked it best.
6. Save Your Image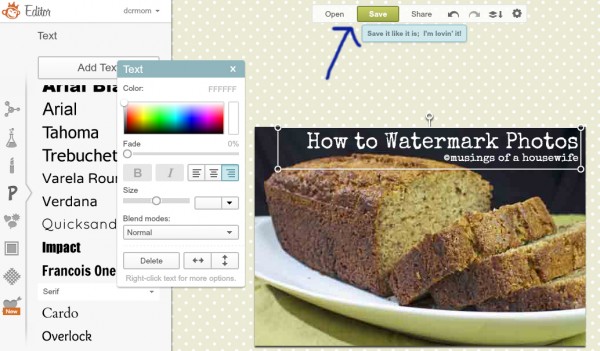 And you have your image, nicely watermarked and ready to upload into your blog post!
That's all there is to it! Feel free to ask any questions you might have in the comment section below.