If you're a Pinterest pro, you can skim over this post. But if you've been waiting to board the Pinterest train and you think you might be ready, but you're not sure where to start, this is the post for you!
Pinterest is a great place to find recipe ideas, craft tutorials, fashion advice, inspiration and to just enjoy the pretty. And there is a whole lotta pretty out there to admire. Pinterest is a bit of a vortex, don't say I didn't warn ya! But it's also a lot of fun.
So if you've been waiting to take the leap, why don't you click on over right now and create yourself a little Pinterest account? And I'll take you on a tour.
How to Get Started on Pinterest
You can sign up with your email, or link in from your Twitter or Facebook account.
If you are wanting a Pinterest account for your business, you'll need to click on that "Learn more" link beside "Are you a business?" because Pinterest now has business accounts that make a lot more sense for brands. (More on that in a future post, but much of this will be helpful if you are a brand wanting to start right away.)
Create Your Account
You will be prompted to fill in some basic information.
I'm going to play along with you, so I've created an invisible friend named Maude who is eager to get started using Pinterest. Maude is going to be our sample new Pinterest user. Make sure to upload a profile picture! Don't leave it blank because then your Pinterest profile will be a red pin, and no one will want to follow you besides your mother.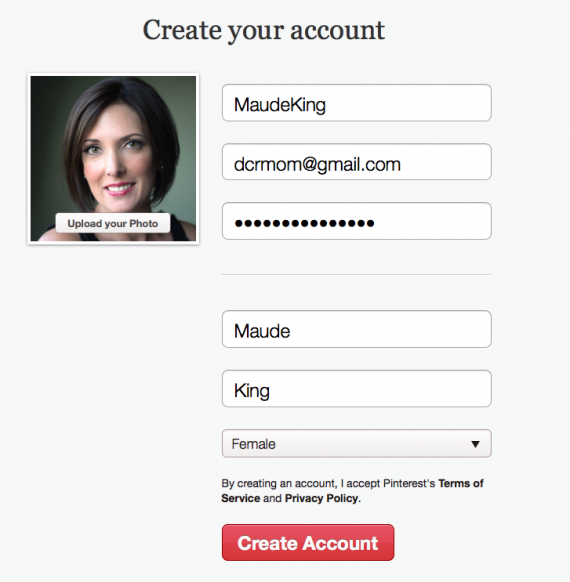 Once you've filled out all the required fields, click Create Account, and you're well on your way!
Get Started
Pinterest will ask you to follow 5 boards to get you started.
Boards are collections of pins created by users. When you follow a board, you'll see it whenever you visit Pinterest.
You can follow specific boards, or you can follow users. If you follow a user, then you will be following all of her boards. I prefer to follow specific boards that are of interest to me, but to each his own.
They will give you a list of categories; when you click on one that interests you, they will recommend users to follow. (My goal in life is to be one of those recommended users. I'm not there yet.)
Click "Follow" to follow the boards that interest you. Once you get a few, click NEXT at the top of the page. You'll have plenty of time to find more users to follow, so just get your five, and let's move on.
Now you are on your homepage. All those pretty pictures are "pins" from users or specific boards you are following.
Pretty, right!??
Confirm Your Email
At the top of the screen, you will be prompted to confirm your email so be sure to do that.
So now you're on Pinterest!
Tell your friends to follow you! To grab the URL to your Pinterest profile page, click on your name in the top righthand corner. That will take you to your personal profile page, and if you copy the URL from your browser bar, you can paste it into an email or into a blog post and share it with friends and readers. It will look like this: https://pinterest.com/maudeking/
Finish Setting Up Your Pinterest Profile
Now let's flesh out your profile a bit. You may notice that there is a place for a description under your name.
Hover over your name in the top righthand corner, and a dropdown box will appear. From there you can invite friends to Pinterest, you can find friends to follow, and you can choose to see your boards, pins and likes. We'll talk about all that in my next post. For now, click on Settings.
Go ahead. I'll wait.
About
In the About field, fill out some information about yourself. Make it interesting so people are more likely to want to follow your boards! Let them know what to expect.
Verify Your Website
If you have a blog or website, you will want to fill that in as well. Once you fill in your URL, it will give you the option to verify your website. You will want to do this.
Search Privacy
Leave the Search Privacy set to OFF if you want to be found via search engines. And why wouldn't you!?
Social Networks
If you want your Pinterest profile to link to your Twitter and Facebook accounts, you can link them up on this page as well.
Once that's done, click Save Profile. Take a look at your profile page now! Looking better already!
Once you verify your website, there will be a link to your website in this section as well. Same for the Facebook and Twitter buttons. Those will be hot links when you have hooked them up. See my real Pinterest profile for an example:
You might notice that my Pinterest profile looks a bit different. Pinterest is in a bit of a transition at the moment, and you may need to manually switch over to the new Pinterest.
Switch to the New Look
To do that, just hover over your name in the top righthand corner, and in the dropdown menu, at the very bottom you should be able to select "Switch to the New Look".
Then you'll look like this!
Now it's time to find some friends on Pinterest. You probably already know quite a few.
Find Friends
You can easily find your friends who are on Pinterest by hovering over your name in the righthand corner and selecting Find Friends.
This will allow you to find friends based on who you follow on Twitter and Facebook. (Make sure you have linked your Pinterest account to those profiles, as explained above.)
Click "Follow" for those you know you want to follow on Pinterest.
If you're unsure, you can click on their name, which will take you to their Pinterest profile, where you can choose to "Follow All" of their boards, or just select certain ones that interest you.
You can also search for specific people using the Search bar at the top lefthand corner of the page.
My next post will tell you all about how to use Pinterest and fill up those blank boards!! Stay tuned!
Oh yeah, and make sure to follow me on Pinterest! See you there!