I've been a letter writer since I could form words on paper. I was always the first to return a Thank You note after a birthday or holiday. When I was in junior high and high school, I constantly wrote notes to my friends. In college, I wrote prolific letters to my family and high school friends living afar. After college, I remember writing letter up on letter to friends and family while I was substitute teaching and doing administrative temp work.
Enter the dawn of the internet era. My letter writing soon turned to email and then to chat rooms and finally to my blog.
The art of personal penmanship is sadly becoming a lost art.
I love getting a card or handwritten note in the mail, but we all know how rare that has become. There are a few people in my life who still send handwritten notes and cards. They always inspire me to do the same, but I rarely get around to it.
I always have great intentions. I often contemplate writing a note to someone who has lost a loved one or moved to a new place. I imagine it, plan it, but it rarely comes to fruition.
It's a sad state of affairs for this girl who LOVES sending and receiving mail.
Funny story . . . I actually have had a card sitting on my desk that I bought and wrote well over six months ago when my best college friend moved far away.
After college, she and I were always blessed to live within a couple hours of each other and we saw each other at least once a year. When she moved, it was heartbreaking — admittedly for her more than for me, as she was not only leaving friends behind, but family as well.
I bought a clever card (Hallmark, of course!) and wrote a note inside and sealed it, but I never got around to addressing it and dropping it in the mail. I even got a Christmas card out to her family (along with about 100 others) while this card sat on my desk. How pathetic is that!??
Until Monday it was still sitting on my desk.
I'm currently participating in a 6-month long sponsored campaign with Hallmark. Hallmark has always been my go-to store for cards. I think theirs are head-and-shoulders above the rest when it comes to both design and sentiment. Happily, they are available at CVS, which is also my neighborhood pharmacy.
A few weeks ago, a box arrived from Hallmark with a generous sampling of their new Sarah Jessica Parker collection including an adorable memo pad set tied off with a pretty bow. Her collection features rich paper with unique illustrations designed to help women celebrate life's big moments and all the happy little moments in between. I love how she pairs vintage artwork from the Hallmark archives with more modern touches like gemstones, ribbon and tulle. Rather than sentimental, flowery prose, Parker opted for simple, authentic and heartfelt messages — they are exactly what you would expect from this iconic trend setter.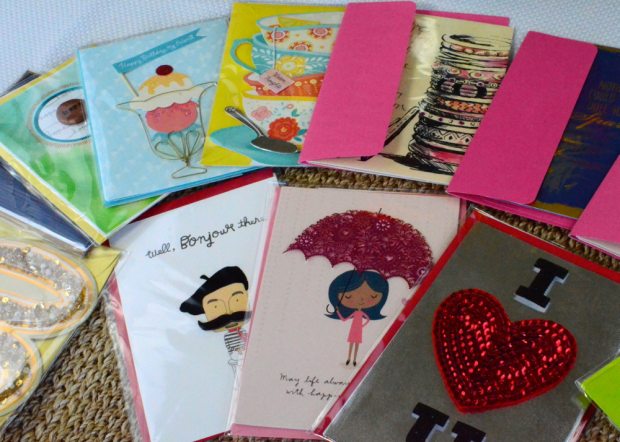 I knew right away EXACTLY what I was going to do with that memo pad set.
I sifted through the cards, reading each one until I found the perfect choice. A friend of mine was over when I was looking through them and we both oohed and ahhed over how fresh and stylish the designs are — perfect for sending to a girlfriend "just because".
I found the perfect card and wrote a note inside, explaining my good intentions with the first one. I sealed it and packed up a box with BOTH cards as well as the memo pad set.
What woman wouldn't want to receive a little thinking-of-you packages from one of her best friends? WHY don't I do this sort of thing more often? I was giddy as I drove to the post office to put the package in the mail. She SHOULD have received it yesterday — my goal is that she gets it before she reads this post! Ha!
I think she'll love it, don't you??
Are you one to send cards and letters in the mail? If so, kudos to you!! If not, I hope this post inspires you to take a few minutes to let someone know you're thinking of them today.
This post is the first in a six-month series sponsored by Hallmark. All thoughts and opinions are my own.