Carrie Willard is a fellow mom blogger who I consider a friend even though we've never met in person. She's been reading my blog for years and has always been a strong supporter of my pursuits to discover more natural remedies for my various ailments. She and I also share a common bond in that we both have children with food allergies and sensitivities. Since I'm inundated with all things cookbook right now, she offered to guest post about her discoveries as the mom of an allergic child. So without further ado, I give you Carrie!
Recently, I discovered that my 8 year old daughter has multiple food sensitivities. Confusing symptoms kept rearing their ugly heads, some of those involving her digestion, so I suspected food. I had already removed gluten from her diet with some improvement, but she still had a lot of symptoms that were getting worse. I asked her Pediatrician for blood tests and my suspicions were confirmed: she is highly sensitive to eggs, dairy, beef, wheat, corn, and to a lesser extent, peanuts and chicken.
Whew! The news was a relief at first, until the reality set in: what was I going to FEED this active, bouncy, athletic child? With 5 other children and a husband to feed, would I be able to find recipes we could all enjoy? And would I ever be able to leave the kitchen?
The first week of her new, strict elimination diet was tough. I spent hours looking for recipes, scouring cookbooks for allergic kids, and browsing websites. My brain had little room for anything else, and I felt exhausted.
Since then, however, I have discovered that the prognosis wasn't all bad, and as I began to focus on what my daughter could eat, and how she was feeling better on the restricted diet, I started to see a few benefits of this lifestyle.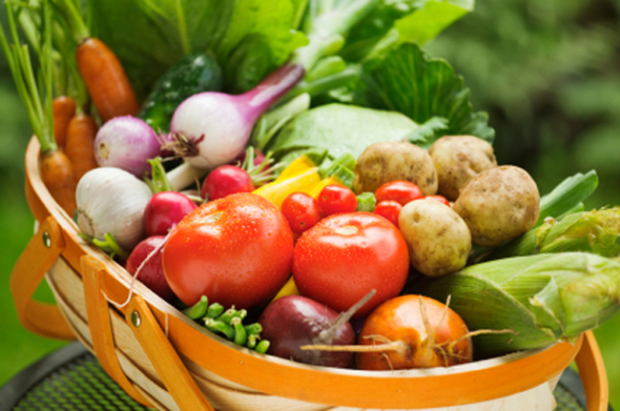 As a result of my daughter's food issues, my family is
… reducing our intake of processed foods even more.
We already ate a mostly whole foods diet, but now that label reading is far more complicated, our diet consists of even more fresh ingredients: meats, vegetables, fruits, beans and whole grains.
… eating more vegetables.
Since my daughter can tolerate all vegetables, we're eating them in greater abundance and variety. One day I counted that we'd eaten FIFTEEN different kinds of vegetables in one day.
… eating more ethnic foods.
As I began brainstorming meal plans, I realized that many types of ethnic cuisine revolve around legumes, rice, fish, and other ingredients my daughter can tolerate (such as coconut). We're eating more Indian and Thai, for example, and I've begun collecting Ethiopian recipes. I've found quite a few fun snacks for my daughter at international markets that feature alternative flours such as rice, teff and taro.
… eating out less.
As you can imagine, eating out is nearly impossible for my daughter. Even if a pizza joint offers gluten-free crust, for example, chances are it contains corn (and what's pizza without cheese!?). As a result, my family is eating out far less than before. So although our grocery spending has gone up, our overall food budget is the same.
I have no doubt that all these changes will prove to be good for everyone in the family. While I would love for my daughter to be able to go to a party and eat pizza or cupcakes or other foods her peers enjoy, keeping a positive attitude has helped me deal with the stress of feeding her well. Another side benefit? Sadie has become more interested in cooking and is joining me in the kitchen a lot. Her specialties are sweet potato fries and salad with homemade vinaigrette. A win!
Have food allergies or other health issues proved, in some ways, to be a blessing to your family?
Carrie Willard is an author and mom who blogs about writing, homeschooling a large family, and frugality at CarrieWillard.com.