In my perfect world, I would grow all our vegetables in the backyard with our own compost for fertilizer. I'd have chickens for eggs and even a milking cow for all our dairy products. My husband would hunt for our meat, and I'd sprout and soak all our grains and make all of our baked goods and snacks from scratch.
Then I wake up, and I'm smacked in the face with a reality check.
Sure, we could sell our house and buy a small farm and start homesteading. There are people who do that, and I admire them. But I'm not that person.
And while I do try to make some of our foods from scratch, I find myself plopping convenience foods in my grocery cart on occasion — especially when it comes to the gluten free products for myself. Because I'm the only one in the house who eats gluten free, I just don't feel like it's worth the time and energy to bake for myself. so I love that there are so many gluten free options on the grocery store shelves these days. Here are a few of my new favorites:
5 New Favorite Gluten Free Snacks
One of the benefits of being an Udi's Gluten Free Community Leader is that I get to sample new Udi's products when they're released. They recently sent me a box of their newest offerings, and the granola bars hit it out of the park. They are the perfect mid-afternoon snack with a cup of espresso. At just 160 calories, I don't feel a bit guilty indulging!
2. Udi's Harvest Crunch Muffins
I'm also in love with these Harvest Crunch Muffins. I'm so glad to see that they're making a healthier muffin option. Not that their chocolate and blueberry varieties aren't fabulous — they are still among our favorites. But they seem more like dessert than breakfast. The Harvest Crunch Muffins are a nice quick breakfast for those days that I don't have time to whip up some eggs, or a half of one makes a nice afternoon snack.
This is one of those things that I would probably never have bought had I seen them in the gluten free grocery aisle, but when they offered to send me some samples I was happy to accept. I've never been one to buy pop-tarts or other toaster pastries, but these are delicious little treats for those days that I feel like having a little indulgence. When you toast them, they are nice and crisp and flaky, and the filling is just sweet enough to be tasty.
They also sent me a gluten free muffin mix that I haven't tried yet. It's next on my agenda!
4. Angie's Sweetly White Cheddar Popcorn
I picked this up at Whole Foods on a whim, and it is my new go-to snack while I'm preparing dinner. It's cheddary with a hint of sweetness, oh my word it is DELICIOUS. Addictive too. You've been warned. I love that 2 cups are only 160 calories. It's a lot of bang for your caloric buck.
5. Kettle Brand New York Cheddar  Potato Chips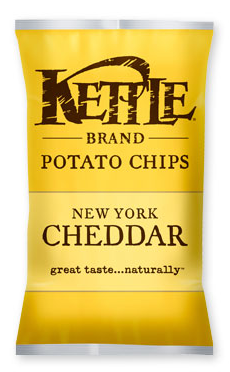 Okay, so this isn't a new favorite. It's more like an all-time favorite. But my OCD would not allow me to post a list with only four items on it. I KNOW. I am weird. These are so delicious (and so high calorie) that I urge you NOT to buy them unless you can afford to eat the whole bag. Once it's open, it's as good as gone.
Do you have a favorite gluten free snack I should know about? Please share! And also, check out the Udi's Gluten Free Community for more gluten free snack ideas.