I'm still plugging away at the de-cluttering project I committed to when Amy inspired me with this post. We're about halfway in and I've done my pantry, my junk drawers, my desktop (I still haven't gone back and done the drawers), the kids' closets, and my bathroom (post still to come). This week I've been focusing on the kitchen.
After reading Elisabeth's book, The G-Free Diet, I decided I needed to clean out the drawers in my kitchen. This was less about de-cluttering and more about de-glutening, although I managed to do some of both. Do you know how many crumbs get caught in your drawers!?
EW!!!!
Gluten or no, I can't believe I let my silverware drawer get this bad. Gross.
I put every last item that had been in that drawer through the dishwasher to get rid of any possible gluten residue. And I cleaned out the silverware liner and my drawer.
MUCH BETTER!
The other drawers got the same treatment. You don't really want to see pictures of everything, do you? Well, I took them so here they are.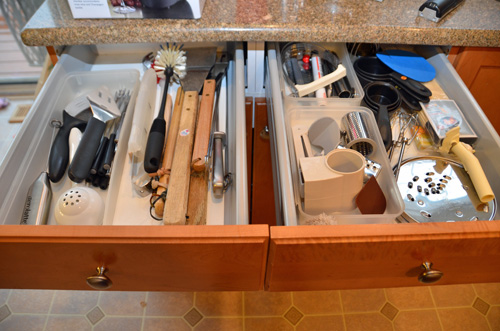 If you have any suggestions for better ways to organize these, I'm all ears. I'm not really the best when it comes to coming up with a system.
This morning I tackled the cabinets. This is the one where I toss anything I don't know what else to do with. It was getting really bad. See?
I took everything out and cleaned it out and then I only put back the things that I use regularly. The rest will go downstairs in the basement "overflow closet" — I tend to forget what is down there, so later today I'm going to make a list and stick it inside a kitchen cabinet so I have it at a glance.
I'm much happier now! Although I'd love to know a better way to store the hand mixer and the stick blender and their wayward cords.
And this is the area under my island:
That was a mess before too. I removed a few things to make more room for the things I use regularly. And it's amazing how taking everything out gives you fresh perspective on how to organize it when you put things back in. I arranged things differently than before, and it works so much better.
I also went through my upper cabinets – the baking cabinet, the cabinets with my dishes and glasses, but I didn't take pictures. Enough is enough.
I have one cabinet left, and I've been putting it off — it's the the corner cupboard that I DESPISE. They are so hard to organize. I have a few "lazy susans" to try to organize my spices and things, but it's really just a free for all in there. Does anyone have a post on organizing a corner cupboard? I need ideas.
I'm proud to say that my junk drawers and pantry are still in great shape so once I tackle the corner cupboard, my kitchen re-org will be just about complete. The fridge is the last frontier, and I'm avoiding that like the plague. It's like those stupid desk drawers. I'm hoping if I keep putting them off, they will miraculously clean and organize themselves.
Alrighty then. It's time to make something of myself, as my mother would say. We woke up this morning to snow and sleet, and that doesn't do much to inspire productivity, but life must go on.