With 3 growing kids, I'm always looking for new healthy-ish snacks to keep our pantry stocked for those weeks when I'm too busy to make anything from scratch. Over the past few months, I've discovered a few new snacks that I think you should know about!
Each of these was sent to me for review, but you should know that I am always up front about my review policies when a new brand wants to send me a food product to try. I don't promise to post about them, and I never take payment for a review. I only share with you the products I'm sent that I truly love. I wouldn't steer you wrong!!!
These are the newest ones that made the cut. If these snacks aren't yet on your radar, they should be.
First up, The Gluten Free Bar. These tasty Gluten Free Bars were developed by brothers, Marshall and Elliot, because they wanted a protein bar that not only tasted good but was also gluten-free. I love that they are not only gluten-free, but they are non-GMO as well as soy-free. And if it matters to you, they're dairy-free as well!
These bars are really tasty. They definitely have that protein bar flavor and texture going on, but this is one of the better ones I've tried. I've taken to carrying one in my purse to have on hand for a quick lunch or snack on the go. My favorite flavor is the chocolate peanut butter, but they're all good.
If you like salty snacks, you will definitely want to check out these new EATrageous chips. This company is dedicated to providing tastier, crunchier, cleaner snack choices. Their chips are super crunchy, very low in fat, gluten-free, and non-gmo.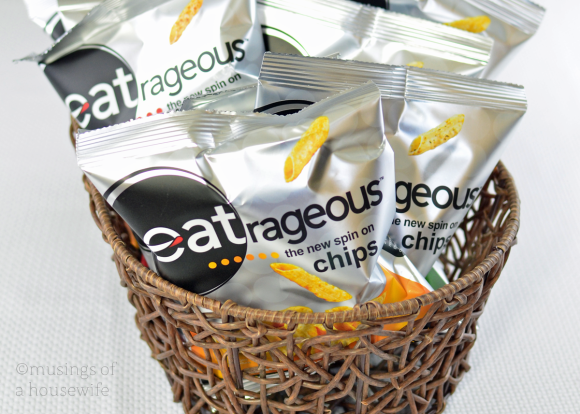 They come in four unique flavors — sea salt, crunchy mac n' cheese, wasabi ranch and sweet & smokey bbq. All of them are fabulously salty and crunchy and delicious. Each bag is only 100 calories. I've had to hide these so they don't disappear.
Finally, I give you a decadent dessert. These gluten-free chocolate chunk brownies by Dancing Deer Baking Company are so good, my kids and husband ate all but one before I even knew it. Fortunately I had tried one before letting them know they were in the house. I'm not used to having to hide my gluten-free desserts. My family doesn't usually care for them that much. But these brownies taste like the real deal. They are dense and moist and chocolatey, and to make them even more extravagant, they are filled with chocolate chunks.
In addition to these gluten-free brownies, Dancing Deer has a huge variety of all-natural, gourmet brownie, cake & cookie Gifts for all occasions so definitely check them out!
What's your favorite new snack these days? Got anything I should try?
Do you go for salty snacks or sweets?? Unfortunately, I like both equally, which is not good for the waistline, but at least I make an easy-going houseguest!!