As they get older, their lists get shorter and more expensive. Is that true or what!? So it stands to reason, my Teen & Tween Gift Guide is shorter and more expensive. HA! No, really, I did my best, but it's a tough crowd! I hope this helps you out, and I'd love to hear YOUR gift ideas for the teens and tweens in your life!
Holiday Gift Ideas for Teens & Tweens
---
Duct tape crafts are all the rage among tween girls right now. I'm constantly amazed by the cute things they can make out of this stuff! Of course you can just stock up on duct tape in pretty patterns, but you can also buy kits. I love this ALEX® Duct Tape Tote
 ($19.99) and looked high and low to find it for my girls.
---
These are all the rage and an awesome gift for anyone, really — girls, boys, women, men. (Although I wouldn't recommend these exact ones for the manly-man in your life!) Just go to Amazon and search "texting glove" and you will come up with more hits than you know what to do with. These make a great stocking stuffer or white elephant gift at the office Christmas party, but they are also a hit with the teens. It's an affordable gift that almost anyone can use, and you can never have too many pairs.
---
I may or may not have one of these under our tree for a certain someone in our family that I scored at the Target Black Friday sale. If your child has an iPod, a Sony iPod dock is a great little gizmo for them to put in their rooms for them to listen to their favorite tunes. (They even make a pink one. How stinkin' cute is that!?) Only problem — many of these are sold out. They must be a popular gift this year!
---
Better yet, give them a bluetooth wireless speaker, and they can take their music with them where ever they go!
---
I-MEGO Walker Junior Headphones | $139.99
These noise-cancelling, collapsible headphones are the perfect travel partner for your little music lover. They're lightweight and fold down to make them easy to pack, and they include an airplane adapter and soft carrying pouch for those long road trips when you don't want to listen to your kid's video games or iPod! Plus they're engineered to create a comfortable listening environment in areas with high ambient noise. These were sent to me for review, and I know they are going to be a hit on Christmas morning!
My kids like music, can you tell??? Okay, movingrightalong.
---
My son received the the PS3 gaming system for Christmas last year, and it has provided hours and hours (too many hours!!) of enjoyment for him and his friends over the past year. It's also a complete entertainment home entertainment hub comprising a Blu-ray player, HDMI output and 1080p resolution, 3D gaming capabilities, and an integrated Wi-Fi connection. If you are looking for a gaming system, we highly recommend it.
---
To go along with the PlayStation, there are hundreds of games sure to thrill and delight every personality and interest. My son is into sports, and the #1 game on his list this year is Madden NFL 13. Of course, there are plenty of other popular games available — Call of Duty, Wonderbook: Book of Spells, Ratchet and Clank and more.
---
Tablet | $159 – $399
As much as I tried to find non-electronic gift ideas… well, it's tough! Tablets are probably the hottest gifts going this season for teen boys and girls alike (and let's face it — men and women, too!) Last year I put the Kindle Fire
on my gift guide, and I still think that's a great choice. Of course Apple products are always hot. But right now I think one of the best tablets out there is the Google Nexus 7. My husband is a techie, and this is the one he's all hot for this year. I am personally loving the smaller sizes, and I have the iPad Mini
on my personal wish list.
---
What teen girl wouldn't love this!? A metallic, animal-print palette with 12 eye shadows, complementary eyeliner, and matching mirror. Ships free from Sephora with code holidayship at checkout.
---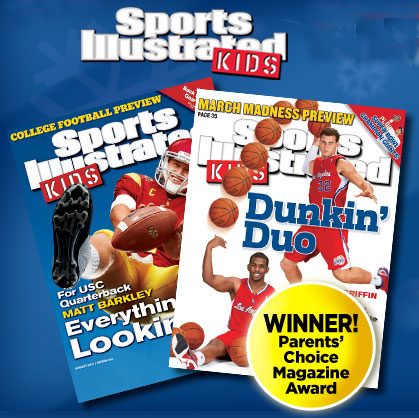 If you have a sports fan in your family, this is a must. My son has been receiving it for the past year, thanks to his grandparents, and he asks for it now every month. He loves it.
---
For more gift ideas, see my complete collection of 2012 Holiday Gift Guide posts!
Disclaimer: Some products were sent to me for consideration, but I was not obligated to post about anything and I was not paid to post about anything. There are certainly affiliate links scattered throughout this guide, meaning that if you click over (usually to Amazon.com) and make a purchase from that site, I receive a small percentage. This is one way that bloggers help support the cost of running our websites and justify the time and effort that we put into providing content every day. We are all so very grateful if you do some of your holiday shopping from our links.