Yes, I'm joining bloggers all over the Interwebs and publishing a holiday gift guide! Funny, when I did my first one four years ago, they were virtually unheard of. Now they're everywhere! But I always enjoy compiling lists of products that I've discovered throughout the year, and I hope it helps if you are stumped for anyone on your gift list.
This year I'm releasing my gift guide as a series of posts according to various topics. Every single one of these gift suggestions is something that I purchased or was sent to me for review, or I am so convinced that I'd love it that it is on my wish list. Point being, everything on this list is something I wholeheartedly endorse. I only feature products that I love.
I hope you find some holiday gift giving inspiration with this list! I'll be releasing more gift guide posts throughout the next two weeks. This one goes up to age 10, and I am working on one for teens and tweens. You can see all my 2012 gift guides by clicking on the Gift Guide button at the bottom of any gift guide post or the one on my sidebar.
Holiday Gift Ideas for Kids
---
I don't have any babies at home, but I do have a niece and a nephew, and I love Plan Toys for educational toys made from non-toxic natural materials. This is about as eco-friendly as it gets! The Stacking Bear is particularly innovative. It's not a typical stacking toy with a tube up through the middle. Rather, you build the bear by stacking and matching the blocks with the corresponding shapes. Check out my PlanToys video to see how it works.
---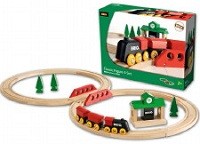 You can't go wrong with this Classic Figure 8 Train Set by Brio. It's the perfect wooden train starter set, with 15 track pieces, a sleek engine, 2 railway cars, three trees, and a station. Brio was always a favorite with my kids, and this little Figure 8 set was one of ASTRA's picks as Best Toys for Kids 2012!
---
My girls are 7 and 10, and they adore these snuggly little critters – blankets that are puppets. How fun is that?!
---
My girls love to dress up and play pretend. Princess costumes from The Disney Store are perfect for pretend play all year round! My daughter loves her new Rapunzel costume, and we have a Cinderella one that has been around for years and is still in excellent condition. They come in all different sizes, and they hold up well for years of make believe play!
---
This outdoor game for two players combines the fun of soccer, kickball, golf, and frisbee. Even though they are a lot older than 3, my boys have enjoyed this! Another of ASTRA's Best Toys for Kids, this clever game is made with eco-friendly materials and is phtalate-, BPA-, and lead-free.
---
 Playwow Racer Ride-On | Ages 3+, $29.99
Playwow Toys is one of this year's most innovative lines of infant and preschool toys. They are designed and developed to teach motor skills and build self-confidence, all while having fun. Their Racer Ride-On
is adorable, and since it is inflatable, you can easily fold it up and put it away when you're not using it — bonus for those with smaller spaces!
---
I am so excited about this new Mega Bloks Barbie Luxury Mansion. My son is not much of a builder, but ironically both my girls love to build and make things. They also adore Barbie. This is the first-ever Barbie building collection, allowing girls to build, design and decorate their own Barbie world with a variety of play sets. Mega Bloks Barbie will be available for presale on December 1st, but they sent me one to review. It's bound to be one of the hottest toys on the market this holiday season!
---
These art kits are perfect for families like ours where the kids love to do crafts but mommy is creatively challenged. They are created by art educators, and I love that they teach open-ended, authentic art techniques with no stencils or templates. Eye Can Art is a smart, Seattle-based company dedicated to encouraging creative play. Co-founders, Bridget and Shannon, are artists and art educators, and have taken the most successful projects from their classrooms and turned them into easy-to-use kits that teach real art techniques.
---
Kiwi Crate Holiday Crates | ages 5+, $19.95 each
We love Kiwi Crate, and this year they have developed a new line of three holiday-related crates for their Celebration Shop, which can be purchased individually. The Crafty Christmas crate includes all the materials and inspiration to create 3 Paint Swirl Ornaments and a cardboard Gingerbread House, the Handmade Hanukkah crate includes a menorah they make themselves as well as dreidel spin art, and with the Gifts Made by Me crate, kids can make 2 decorated journals as gifts, 4 greeting cards, and their own wrapping. How fun is that!?
---
Floam is the incredible, reusable molding compound that will keep you creating for hours on end! This new-and-improved Floam has been reformulated to work better and create less mess. It isn't goopy or messy at all, and yet you can mold it to create just about anything you can think up. It is sort of like play-doh, but much more versatile because it actually hardens to make a long-lasting toy or sculpture. But if you don't want to keep your creation, you can ball it up and return it to its container, and it stays soft and fresh to use again another day. Read my Floam Review for more details.
---
Once Upon a TreeHouse | ages 3+, $120
I absolutely ADORE this company. Two moms created this line of handmade, wholesome dollhouse toys like their "Poppy" made for them when they were little girls. They offer a wide range of eco-friendly, high end custom dollhouse products colorfully adorned to appeal to today's kids & parents. They sent me one of these precious little dolls, and as soon as I opened the box my daughter whisked her away and took her to play in her own wooden dollhouse. There is a whole collection of dollhouses, furniture and dolls to choose from.
---
I realize American Girl needs no introduction, but I had to include this because I am a HUGE fan of the brand, and I happen to have a special affinity for the name Caroline. *grin* Also, I love American history and reading historical fiction, and the war of 1812 is a very interesting time in our country's history. (Caroline's story takes place during the War of 1812.) I saw her live and in person at the Mom Mixer earlier this month, and I fell in love. (Who says Christmas is just for kids!?) This gorgeous doll along with her story books is on our wish list this year FOR SURE.
---
My girls can't get enough of the Just Dance for Wii party games. I can't wait to see their eyes light up when they find Just Dance 4 under the Christmas tree!
---
For more gift ideas, see my complete collection of 2012 Holiday Gift Guide posts!
Disclaimer: Some products were sent to me for consideration, but I was not obligated to post about anything and I was not paid to post about anything. There are certainly affiliate links scattered throughout this guide, meaning that if you click over (usually to Amazon.com) and make a purchase from that site, I receive a small percentage. This is one way that bloggers help support the cost of running our websites and justify the time and effort that we put into providing content every day. We are all so very grateful if you do some of your holiday shopping from our links.